Solar Professional.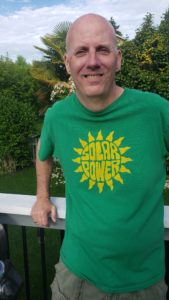 WHY DID YOU JOIN SB?
Sustainability is one of my core values. I work in the solar industry, installed solar at my house and have driven an all-electric car (LEAF) since 2013. Sustainability is the pathway toward an equitable world for all.

HOW LONG HAVE YOU BEEN A MEMBER OF SB?
8 Years. 2020 is my second year on the Board and I've been participating in Sustainable Ballard activities since 2012.

WHAT PROJECT(S) ARE YOU CURRENTLY INVOLVED IN?
COR (Community Outreach)
SB Board

WHAT WAS THE FIRST SB EVENT/PROGRAM YOU ATTENDED?
Solar-focused activities for kids at the 2012 Fremont Solstice Parade/We the People Party.

WHAT DO YOU ENJOY MOST ABOUT BEING A MEMBER OF SB?
Helping make our community a better place and being inspired by the other Sustainable Ballard members. I've met some truly amazing people.

SHARE A FUN FACT ABOUT YOURSELF
My first job was at Sunset Bowl and I was in the last graduating class of Queen Anne High School. I manufactured, designed and installed the solar PV system at my house.