Sustainable Ballard is powered by 100% clean volunteer energy!
No matter your skill set, we have ways for you to get involved in our ongoing activities and special events. Your passion for contributing to the community is what matters most!  There are a few options: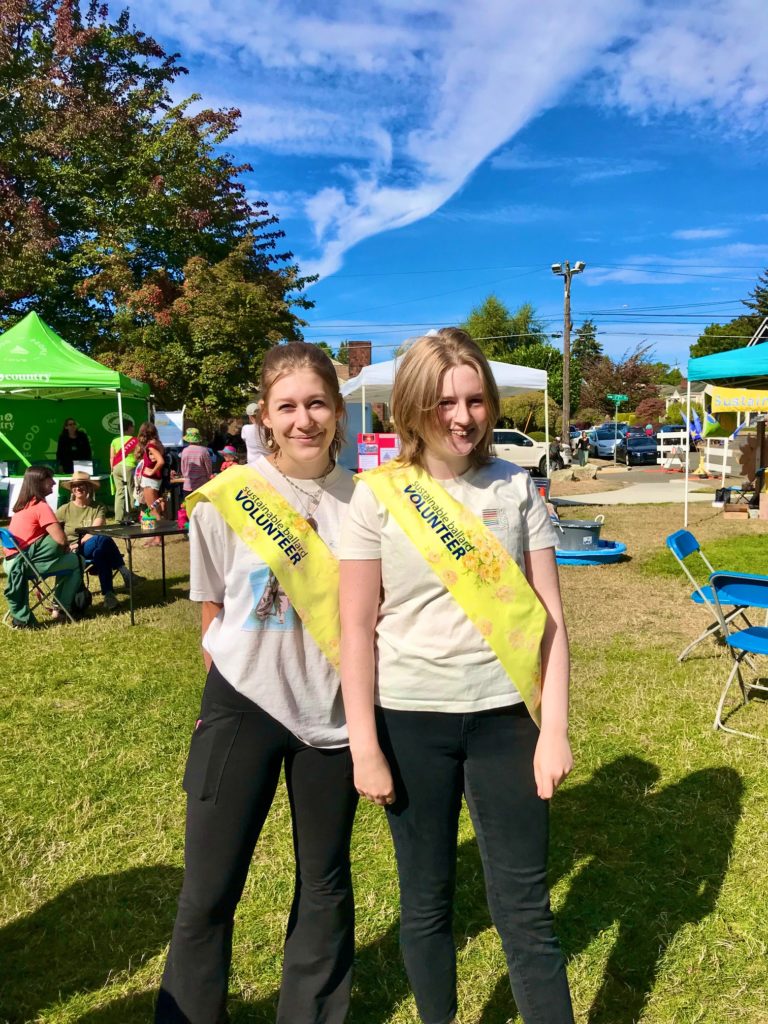 Current Volunteer Opportunities
Help Ballard be idle free!
Join our group of folks helping to spread the word that unnecessary vehicle idling:
wastes gas and money
harms human health
worsens climate change
and isn't even good for your car!
Sustainable Ballard has "idle free" cards and posters to get the word out to neighbors, schools and businesses. Help us raise awareness to "turn it off" while waiting for the Ballard Bridge, looking at the view in our Ballard parks, or checking our phones in the grocery store parking lot. Visit sustainableballard.org/idle-free-ballard/ to learn more or email Polly if you'd like to help or have additional ideas for outreach and education.
Remember, idling gets you nowhere!
Join the Market Gleaning Team!
We're looking for new volunteers to help feed the community while adhering to our COVID-19 best practices. Volunteers can expect to help by collecting produce from the vendors, carrying boxes and sorting the collected food into containers at the Food Bank. Gleaning takes place from 1:45pm to ~4pm on Sundays, beginning about 15 minutes before the end of the market. The time it takes depends on how much food we collect. To learn more, email Olivia with the subject line "New Gleaning Volunteer."
Enjoy a meal and volunteer with Meals with Neighbors!
Join us to enjoy a hot, nutritious community meal! Every Sunday night at Ballard First Lutheran, join us for dinner; and every weekday morning breakfast at St. Luke's. Want to help makes these meals possible? Volunteer to cook, serve, and clean up. Want to learn about other ways to get involved, and support all our neighbors? Email Anya.
Join the Bakery Gleaning Team!
Four times a week, the Sustainable Ballard Bakery Gleaning team delivers generous amounts of bread and pastries donated by Tall Grass Bakery and Cafe Besalu to the St. Luke's Edible Hope program. St. Luke's is able to distribute this to our hungry neighbors through their breakfast program. Volunteers welcome! Please have a car, and be available Monday or Tuesday afternoons, or Wednesdays or Sundays at 6pm. Contact Chris for more info.
Always Looking for New Knitters
Ballard Knitters produces scarves, hats and lap blankets for people experiencing homelessness. We meet monthly, and we accept your homemade knitwear at all times. No experience necessary. Show up at our monthly meeting and we'll teach you to knit or crochet. Done with knitting? Donate your excess yarn! Contact Jody Jody for more details.
We are looking for team members to get our Meaningful Movies project up and running again. For more details contact Jenny.
THANK YOU to all our awesome volunteers! Sustainable Ballard is sustainable because of YOU!