Free yourself from the clutter – in your home and your head!
Say NO to the landfill, and YES to reusing and recycling.
None of us want to add to the landfill in Arlington, Oregon (that's where Seattle's trash goes). For anything with any kind of life left in it, we want to find a recipient, but this can be really hard for things that don't go in our curbside recycling bin. Or maybe Goodwill isn't where you want your "stuff" to go. So, here are helpful ideas for dealing with your stuff.
HUMBLE DESIGN – FURNITURE


Humble Design is a non-profit organization trying to end the cycle of homelessness in Seattle. Humble serves families transitioning from shelters and into housing by transforming their empty house or apartment into a warm, welcoming, and uplifting home with donated furniture and household goods. It's more than just furniture, it's about a fresh start that creates ownership, dignity, and stability. Humble Design launched in Seattle in 2018 and since then, the staff, along with a growing number of passionate volunteers, have served over 100 families and veterans in the Puget Sound region. The team currently helps one family per week, with a goal to grow and serve three families per week.
The Seattle location accepts new or lightly used furniture and home goods donations at our warehouse on Harbor Island. The address is 3235 – 16th Ave SW and they're open for drop-offs on Tuesdays and Thursdays, 10am-2pm. You can find more information on what Humble accepts / does not accept on the webpage: https://www.humbledesign.org/donation-cheatsheet. Feel free to email seattleinfo@humbledesign.org with specific inquiries. Thank you!
THE BRIDGE CARE CENTER – CLOTHING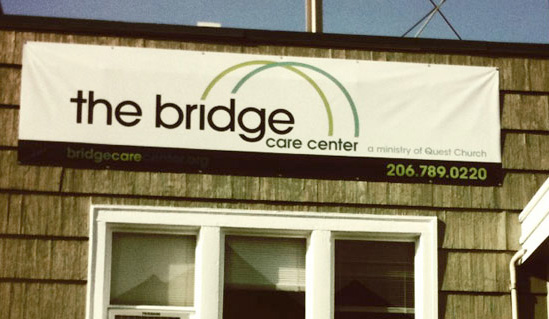 The Bridge Care Center is a bridge to resources, relationships, and hope for women and men experiencing lack of housing and economic hardship in the Ballard area of Seattle. They are working hard to connect our neighbors who live outside to the resources they need, specifically clothing, hygiene items, and water.
The items most needed as we move into colder weather are men's and women's sweatshirts, jackets and coats of any kind, and men's belts and pants with waist size 30″-38″ (any lengths). With occasional drop off days check facebook.com/bridgecarecenter for details. You can also email info@bridgecarecenter.org to arrange a porch pick up of your donations.
RIDWELL – SUBSCRIPTION SERVICE
You've seen those Ridwell boxes on porches, so what exactly are they and what do they take? Inside those boxes are four linen bags for their bi-weekly pickups. The bags are for threads, plastic film, batteries, and light bulbs. Recently they added a features bag for collecting their rotating list of particular items which in the recent past have included electronics, eyeglasses, school backpacks, kitchen ware, kid's toys, Halloween candy…
Ridwell began with a young son, Owen who with his Dad went to research where batteries go, leading to a long list of other items that usually end up at a transfer station. So now, they send bras to Africa; ReWa has received kitchenware; pet supplies, Styrofoam, car seats, and latex paint have all found new homes.
It's great to keep all those things out of the trash, and know they will be passed on … that's what a sustainable Ballard looks like. There is a subscription fee depending on your zip code. Their prices and all further info are at www.ridwell.com.
BALLARD REUSE – HOUSEHOLD MATERIALS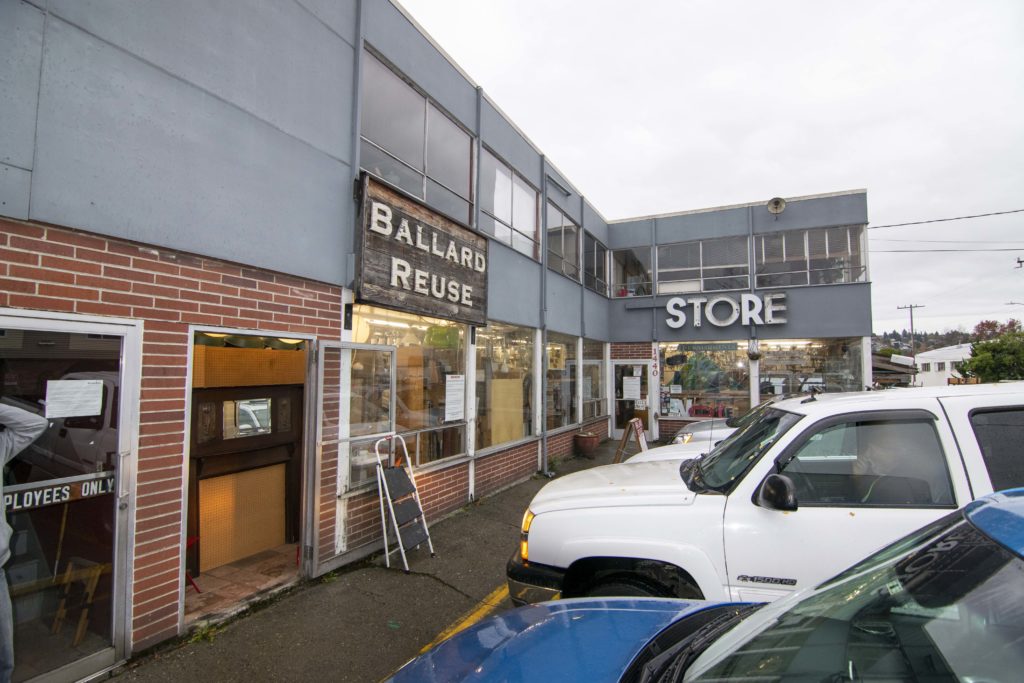 Ballard ReUse, a place where you can send your old, salvageable household materials like doors, windows, lights, cabinets, toilets and/or find some great materials at a low cost for your next project.
Ballard ReUse opened in June, 2014 and was previously known as Ballard ReStore. They currently have 11 employees with a full-time crew that goes out to salvage buildings including homes, schools and restaurants, to keep reusable materials out of the landfill. This process eliminates the carbon emissions associated with the sourcing, manufacturing, and transportation to market of new building materials. Repurposing materials is an important component of fighting the Climate Crisis.
Ballard ReUse's warehouse / showroom is open seven days a week which is helpful for the weekend warrior remodeler. Currently, because of COVID-19, they're asking customers to schedule an appointment and limiting the amount of people in the store at one time.
With a large warehouse and an outdoor storage area, Ballard ReUse offers a unique blend of hard to find building materials – antique lights, doorknobs, windows, doors, trim, tile, lumber, furniture, etc…
When you get done with your estate sale, or, if you simply want to avoid having one, contact Ballard ReUse and depending on the stores needs and inventory, they can send someone over to check out what you have and might even haul it away to their store for you.
Their salvage services include – "a garage or basement full of stuff; kitchen remodels; Grandpa's barn full of hoardings; gutting a home or business space; partial or full demolition and commercial remodels and retrofits."
Customers can also haul materials down to Ballard ReUse until one hour before the store closes each day.
Things that Ballard ReUse doesn't take include hollow core doors, carpet and fluorescent lights, items with damage, rot, mold, missing parts, items that are unlikely to sell or that they already have too much of that's not selling.
Currently, Reuse is offering shopping by Appointment Only and Personal Shopping/Curbside pickup and their Salvage Crew is available for salvages and pickups. If you have materials you think they might want, click here for Salvage Services or email receiving@ballardreuse.com.
Hours 9AM to 6PM, seven days a week. Donations are accepted up until 5PM.
http://ballardreuse.com/
206-297-9119
store@ballardreuse.com
1440 N.W. 52nd St., Seattle, WA 98107
STUFFLESS HOLIDAYS
Every Holiday Season our problem with Stuff rears it's ugly head. The season can be more full of joy, reflection and family when we reduce the time spent on shopping, spending and frenzied preparation. We've put together some great local and national resources to help you on your way:
Set an intention to live your values. Pledge to Simplify the Holidays with New Dream (More of What Matters) and take advantage of a slew of great resources such as a gorgeous and easy-to-download gift coupon book template and a list of over 100 non-Stuff coupon ideas.
Create a wish list. Let your loved ones know what you'd like to receive this year instead of Stuff. Use the SoKind Registry to pick out the experiences, crafts, thrift items and one-on-one time you really crave. It's the only gift registry that will fill your life with memories instead of Stuff.
Share the wealth. Do you have tools or accessories or beautiful serving dishes you never use? Reduce the clutter in your house and perhaps find the perfect item for your gift list with your local Buy Nothing Facebook group. Buy Nothing Ballard is so big it is divided into 4 regions. Just open Facebook and type "Buy Nothing Ballard" to find your community.
Buy local. Explore the Seattle Good Directory — discover hundreds of organizations doing the most GOOD in Seattle and throughout Washington!
Give a gift that keeps on giving. The Cascadia Region now boasts 7 different ways that you can give beverages in reusable bottles. Turn your giftee on to one of them. Thanks to our friends at Sightline for this great article.
Say goodbye to junk mail. Stop the clear cutting of forests to bring you catalogs you don't want, full of products you'd never buy. Sign up for Catalog Choice today. (Bonuses: It's free, it's nonprofit, and it's now managed by The Story of Stuff Project!)
Do you know of other resources? Please let us know!