Festival Work Parties — join the fun!
You can be a part of making our 11th Annual Festival the best ever!  We'd love for you to join the action by helping create the environment that makes the Sustainable Ballard Festival special.  We have several work parties lined up:
General festival work parties — work on trash fashion and other non-messy creative activities
September 11, 16 & 18, 7:00 p.m. – 9:00 p.m. at St. Luke's Episcopal, 5710 – 22nd Ave NW; go to the entrance under the green canopy.  It would be great to know in advance if you'll join us — RSVP here — but drop-ins are welcome!
Stage work party
Help get the stage ready!  We'll be applying epoxy to the top, making rope hand grips and revarnishing.  Beer and tall tales provided.  September 17 @ 7pm; RSVP for location.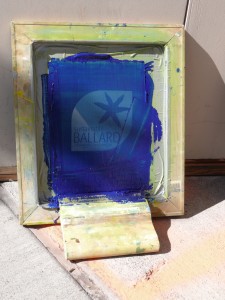 Messy stuff work party — silk-screening and making batik banners
September 20 – 2:00 p.m. – 5:00 p.m. at Jenny's house;
RSVP
for address.