2017 Sustainable Ballard Festival … CERTIFIED LOCAL!
Ballard Commons Park
Family-friendly, FREE, and full of surprises, the Sustainable Ballard Festival will be celebrating its 14th year!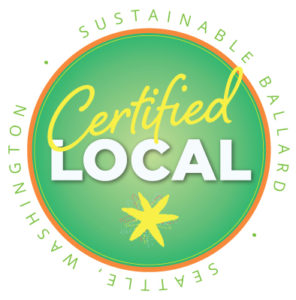 Eclectic, artsy, earthy, urban and committed to a better future… that's Sustainable Ballard and the 14th Annual Sustainable Ballard Festival.  Join this group of Ballard neighbors on September 9th at Ballard Commons Park for creativity, passion and community-building while learning about daily practices and big steps toward more sustainable living. This year's theme is "Certified Local" featuring a broad variety of ways that you can demonstrate your commitment to local, sustainable actions.
Bike, bus, skateboard, stroll or walk to Ballard Commons Park where you can enjoy live music, sample Ballard's tasty teas and sweets in the Taste of Ballard Tea Garden, and visit over 50 organizations and businesses
involved in living life sustainably.  Built Green is back as our BIGGEST sponsor this year and will once again provide an opportunity for attendees of all ages to build bird houses made of recycled yard signs.
Many of your favorites will be at the festival, plus more new activities, workshops, and hands-on games than ever before.  Play games, enter to win prizes, learn lots of new ways to upcycle, help us make fresh cider and meet farm animals! The Sustainable Ballard Festival is a fantastically fun opportunity to learn together, get inspired, and discover new ways to live more lightly on the earth.
Sustainable Ballard depends on the generosity of local environmental organizations and green businesses in order to stage the festival every year.
Our sponsors create wonderful educational and interactive exhibits that help visitors learn more about the dedication that these fine organizations have to creating a more sustainable world. Only food and subscription sales are allowed at the Sustainable Ballard Festival, giving attendees and business owners a chance to make lasting personal connections.
CLICK HERE to learn more about sponsoring the Festival this year.
Don't miss this opportunity to associate your business or organization with its goals. Deadline is August 11th.