Sustainable Ballard is powered by 100% clean volunteer energy!
No matter your skill set, we have ways for you to get involved in our ongoing activities and special events. Your passion for contributing to the community is what matters most!   Fill out our volunteer application to get started.
Hot Volunteer Opportunities
We're into fall, which means that the Market Gleaners have started to slow down for the post-harvest season — a great time to join the team and learn the ropes!  This project is looking for volunteers to help collect fresh produce from the generous farmers of the Ballard Farmers Market for delivery to the Ballard Food Bank.
Teams of gleaners rotate so the commitment can be no more than once per month, 2:45-5pm, on Sundays.  The more volunteer teams we have, the less often each team will be put onto the schedule — many hands make light work!
Interested?  Please contact Katie for more information or to sign up.
———————————————————————————————————————-
The Ballard Tool Library is an organization created for the community, by the community. We rely on volunteers for everything from spreading the word about us to helping keep our tools clean, organized and in working order Interested in volunteering? Come to a volunteer orientation, held every first and third Sunday of each month from 4 – 5pm, to learn more about how to get involved. There, you can fill out our BTL volunteer application and waiver, learn about how you can make a big impact at BTL, and even start signing up for shifts!
Take a look at the volunteer positions available below, or email us at  ballardtoollibrary@gmail.com if you are interested in donating your talents in a different way.
Tool Librarian
Minimum 2hr/month suggested
Staff the Ballard Tool Library during our open hours. Duties include signing up new members, checking tools in and out, accepting and cataloguing tool donations, and being a warm and welcoming presence at the BTL. We encourage tool librarians to sign up for at least 1 shift/month. General experience / knowledge of tools strongly encouraged but not required.
Tool Librarian shifts: Sundays, 11:45am – 2:45pm and 2:30pm – 5:15pm
Tuesdays, 10:45am – 1:15pm
Thursdays, 4:45pm – 6:45pm and 6:30pm – 8:30pm
Tool Maintenance Team Member
Minimum 2hr/month suggested
*Calling all volunteers with tool maintenance experience!* Many of our tool could use some TLC, and we'd love your help with monthly maintenance events. If you have experience keeping tools sharpened and maintained, this is the perfect opportunity for you. If you're willing to help train other volunteers in the fine art of tool maintenance, even better! Beginners are welcome to help with basic cleaning and labeling of tools, although must attend a BTL maintenance training if interested in learning more in-depth upkeep methods.
————————————————————————————————————————–
Help prepare and serve meals for our neighbors!
Ballard Sunday Dinners:  Sustainable Ballard participates with five local churches to produce a hot, wholesome Sunday dinner every week. The meal is prepared under the leadership of volunteers from one or two of the participating churches.  Sustainable Ballard volunteers work alongside the church volunteers in various positions:  cooking the meal, setting up the dining hall, greeting the guests, serving the meal, or cleaning up.
Edible Hope:  We have added a second opportunity to serve our neighbors!  Every weekday morning at 7am, breakfast is served at St. Luke's.  We are now supporting the program with additional volunteer service.
Contact:  Camilla Walter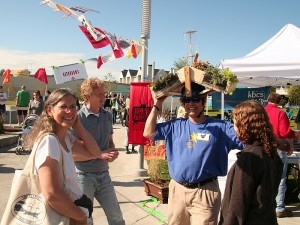 SB is seeking a Volunteer Coordinator!  Got some volunteer coordination skills and experience and some time to give?  Manage our most precious resource! 🙂  Our awesome volunteers (that's all of us!) can use a Coordinator to welcome, orient, connect, keep track of, keep in touch with and appreciate them.   Someone highly organized, outgoing, tech friendly with good communications skills would be great for this central role in the organization.  Interested or want more info? Please note this in your volunteer application above.
Join our Projects and Events Group (aka PEG)!  We're seeking a few folks who enjoy working with others, putting your skills to good use creating and supporting cool events and projects for the community.  For more information, contact Andrea.
Join the Meaningful Movies: Sustainable Ballard Team!  We are looking for team members to help select the documentary movies we screen, plus a team member to be the liaison with the Meaningful Movies parent organization, plus someone to be our Leader.  The team meets every month on Mondays.  For more details contact Margaret.
~~~~~~~~~~~~~~~~~~~~~~~~~~~~~~~~~~~~~~~~~~~~~~~~~~~~~~~~~~~~~~~~~~~~~~~~~~~~
THANK YOU to all our awesome volunteers!  Sustainable Ballard is sustainable because of YOU!