Ballard Tool Library: Over 1,000 tools and growing!
Howzit, everyone!
The Ballard Tool Library is chugging along at a blistering pace just in time for the Summer heat!  Between spending the last of our grant money on some fun new tools and sifting through the constant influx of donations, we've got you covered for all of your gardening, home improvement, and event planning needs.  Thanks to everyone who's contributed!  Ballard Tool Library: over 1000 tools and growing.
But not only did we reach a new tool milestone, we also grew to over 100 members!  This is great news as community is a big part of what we do.  As you all know, BTL isn't just about tools, it's also about helping the planet while helping your neighbors.  So if you haven't joined yet, be sure to stop by and meet the other people in your community who've already discovered the awesomeness of the Ballard Tool Library.  The bigger we get, the more we'll have to offer!
And if you're looking to get more involved with the Ballard community, come volunteer with the Ballard Tool Library!  We have a variety of fun projects that can suit most anyone, no matter what your skill set is, how much experience you have, or how much free time you have.  Every little bit helps!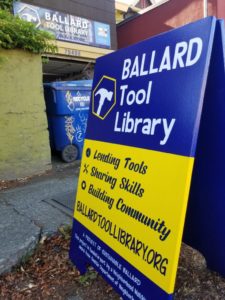 Aloha,
JB "Summer Lovin" Harmon