@ the FESTIVAL! – Music and Food!
Music Stage
11:15 AM
The Red Claw Wranglers
The Red Claw Wranglers play Zesty Zydeco, Cajun, and Swamp Pop favorites with Mark Myking on accordion, Tina Tanaka on vocals and rub board, Randy Neal on guitar and Will Tanaka on Bass.

12:00 PM
Fremont Drum and Dance
Magical hand drum rhythms of Africa and Her Diaspora with Bill Matthews and students from Fremont Drum/Ballard Classroom.
1:00 PM
Drunken Maidens
The Drunken Maidens, an all-female acoustic band, specialize in tight vocalharmonies which are inspired by performers such as Sweet Honey in the Rock, Mediaeval Baebes, Great Big Sea & the Wailin' Jennys. In addition to their voices, the band incorporates guitar, fiddle, mandolin, whistles, mountain dulcimer and percussion. Threads from traditional ballads, shanties, old-time and bluegrass, fiddle tunes and early music are woven together to produce a colorful and varied blend of British and American music, old and new.
2:00 PM
The Harper Conspiracy
The Harper Conspiracy plays music with passion. Their brand of originals and reinvented cover songs span musical genres, making for a performance filled with pleasant surprises.  Soulful vocals, playful guitars, saxophone, take the audience on a unique ride.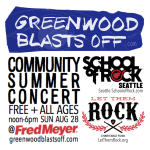 3:00 PM
School of Rock 
Sustainable Ballard welcomes School of Rock Seattle  youth and teen band performances, as a promo of the GreenwoodBlastsOff Community Summer Concert ; a free, all-ages, outdoor live music, art, education & outreach event noon-6pm Sunday August 28, 2016 @ Fred Meyer Greenwood, sponsored by 501(c)(3) Let Them Rock.
Food Trucks
Patty Pan Grill
Tamales and grilled vegetable quesadillas featuring locally and sustainably sourced ingredients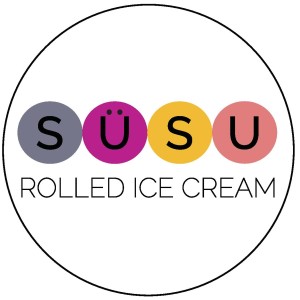 Susu Seattle
We combine traditional French custard ice cream recipes with the heritage of Thai-style street ice cream to bring you a made-to-order cup brimming with creamy deliciousness and elegant flavor combinations. In a matter of minutes you'll watch us go from simply an ice cream base and a few flavorful ingredients to a delightful dessert that's almost too pretty to eat. (Almost.)
Beez Neez
Spicy Alaskan Reindeer Sausage
Regular Alaskan Reindeer Sausage
German Bratwurst Louisiana Hot Link
All Beef Dog Polish Dog Veggie Dog
Add ons: Cream Cheese