Thank You to Ballard Sprouts Volunteers!
Ballard Sprouts
has been an incredible collection of wonderful volunteers who have seeded, transplanted, watered and nurtured over 7,000 vegetable starts for Giving Gardens all over Seattle.  
Follow this link
to learn more about these gardens.
Seattle Giving Gardens (SGGN.org) works in partnership with Ballard Sprouts and the other half of our team, Ravenna Sprouts greenhouse, to give gardeners a head start to grow produce for Food Banks and Community Feed programs all over the city.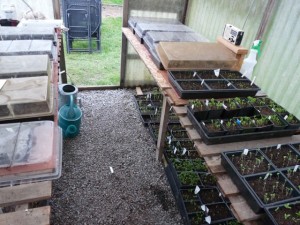 The project starts in February with greenhouse seeding of chard, kale, lettuce, mustard and other cold weather plants.  By mid-April these plants are ready for plantings in the Giving Gardens.  Before those are out the door, new plantings of summer squash, more lettuce and beans are being prepped for distribution in May.  Right now in mid-June the final summer set (tomatoes, basil, cukes, tomatillos and more lettuce) are heading out to the gardens.
Thanks to all who have made 2015 such a successful year !!  If you are interested in joining this early season gardening joy in 2016, let
Lori Conzatti
, the Project Lead, know.  The work is done in a Ballard green house, starts in February and is over the first week of June.  Come help get fresh, locally grown, organic vegetables into the houses of food bank customers and onto the plates of community soup kitchen guests all over our wonderful city.  All starting in Ballard !!!!