Thank you to Ballard Farmers Market donors!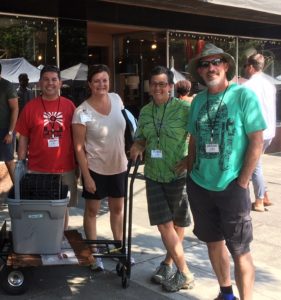 In 2018, the Market Gleaning Team collected over 5,300 pounds of food donated by farmers at the Sunday Ballard Farmers Market, and transported the food to the Ballard Food Bank.
Thanks to the generosity of the farmers and the time and energy of the Gleaning Team, all this food was diverted from the compost pile and into the shopping baskets of the Food Bank. Many thanks to our team of volunteers and high school student helpers!
Many, many thanks go out to all of the farms, orchards and bakeries who donated food in 2018:
A.C.M.A. Mission Orchards
Alvarez Organic Farms
Booth Canyon Orchard
Collins Family Orchards
Collinswood
Foothills Farm
Growing Washington
Hayton Farms Berries
Kallstrom Sweet Corn
Kirsop Farm
Lyall Farms
Magana Farms
Martin Family Orchard
Nash's Organic Produce
One Leaf Farm
Red Barn Farm
River Run Farm
Sea Wolf Bakery
Shong Chao's Farm
Sidhu Farms
Sno Valley Mushrooms
Spring Rain Farm & Orchard
Stokesberry Sustainable Farm
Tall Grass Bakery
Urban Sanctuary Farm
Ballard Farmers Market – Sundays
If you are interested in helping with the gleaning project on Sundays, 2:45pm – 5:00pm, contact Katie.
Project Contact:  Katie Shinn