The Sustainable Ballard Festival offered these great activities in 2014:
Carseat Recycling
Have an outgrown car seat you'd like to pass along to a family in need? Looking for a place to recycle your expired or damaged car seat? Bring your unwanted children's car seats to the Sustainable Ballard Festival and we'll make sure they are either safely reused or recycled. A $5 voluntary donation is requested to offset the cost of recycling.
Zero Waste Washington and CoolMom are partnering on this one-day event with WestSide Baby and Total Reclaim. Car seats that have not expired and have not been in an accident will go to WestSide Baby. Those that are safe to reuse will be provided to agencies for delivery to low income families who need them.  Car seats that can't be reused will be sent to Total Reclaim for disassembly and recycling. Each car seat contains about 15 pounds of rigid plastic and metal that can be made into something new. That means fewer valuable materials in the landfill and fewer greenhouse gases!

Skateboard Clinics

Come learn to skateboard at Sustainable Ballard Festival! Skate Like a Girl will be running three 30 minute co-ed clinics for FREE during the festival, as well as providing boards and protective gear. All-ages and all-abilities encouraged! Skate Like a Girl will also be hosting demonstrations throughout the day. Don't miss it!
Schedule:
11am-11:45: Demos, free skate, sign up for clinics
Noon-12:30: Clinic #1
12:30-1:45: Demos, sign up for clinics
2pm-2:30: Clinic #2
2:30-3:45: Demos, sign up for clinics
4pm-4:30pm: Clinic #3
4:30-6pm: Free skate
Electric Bike Raffle!
Thanks to a generous donation from Electric and Folding Bikes NW, we'll be raffling off a Giant Twist Freedom DX electric bike!  This bike retails for $2250.
Aluminum frame
Shimano Nexus internal-gear rear hub
8 speed
Power assist
This is a great long-range bike with 2 lithium-ion battery EnergyPaks for extended range. Giant's Hybrid Cycling Technology uses battery-based energy to seamlessly enhance your pedaling power. It's quiet, it's refined and, unlike old-fashioned electric bikes, it still rides like a bicycle-only easier and faster.
Raffle tickets will be $5 and the drawing will be held at 5:45 pm.  You do not have to be present to win.

Family Bike and Pet Parade!

The Family Bike & Pet Parade allows kids to decorate themselves, their pets and their bikes, (with their family's help if needed) and show their Sustainable Spirit!  Seattle ReCreative and Sustainable Ballard will provide the (otherwise landfill) materials to do the decorating.  Kids may also join the parade with their pre-made decorated bikes and pets (re-used materials only).  This colorful parade is for children Age 2 – Grade 6.  Parent must stay with child during the parade and help keep the route clear. FREE to participate. Register in the Kids Zone upon arrival for one or both parades.
The parade will repeat twice during the day on the following schedule:
1:00 pm – Decoration Station Open – Kids Zone
2:30 pm – Assemble in the Kids Zone for parade line-up
2:45 pm – Parade begins – Route will circle through the park and be about 15 min long.
3:00 am – Decoration Station Open – Kids Zone
4:30 pm – Assemble in the Kids Zone for parade line-up
4:45 pm – Parade begins – Route will circle through the park and be about 15 min long.

Bubbleman
1:15 pm
Join Bubbleman for an entertaining hour of bubble magic and then learn to make your own bubble wand with six-pack rings.
Spiritual Community Space
Weave a respite of silence into your festival day.  Visit the Spiritual Community Space, sponsored by Interfaith Community Sanctuary, for interfaith prayer, ritual, chant, song / music … all in a gentle tranquil space.  Perhaps find a conversation about spiritual matters, or chat about the state of the world. Or just be.
Schedule:
Noon – Universal Worship.  Honoring all the wisdom traditions of humanity equally, we join in an ongoing cosmic celebration with all of creation.
1:00 – 5:00 pm – Exploratory Open Dialogue on the theme "What is Sustainable Spirituality?" interspersed with spiritual practices and silence.
5:00 pm – Interfaith Chanting. Singing prayers from many traditions. No experience necessary!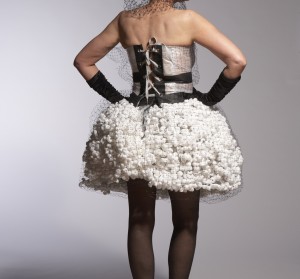 Trash Fashion Promenade
Curious about what can be created with a bit of rubbish and ingenuity? Our Trash Fashion Pomenade will feature beautiful ensembles made out of items from society's rubbish. The show is meant to entertain, educate and empower others to rethink, reuse and recycle. Models flaunt designer detritus as our announcer reveals the surprising source and vision behind each fashion. The selected fashions and accessories stretch the imagination regarding what is wearable – materials might include construction fencing, food packaging, inner tubes, soda pop top chain mail, or plastic grocery bags woven, crocheted, pleated or sewn. If it can't be reused, recycled or composted, it's fair game for the trash fashionistas.
Schedule:
12:30 pm  Fashion Show @ Mainstage – Learn about what went into making each of our delicious fashions.
1:00 pm – Photo Ops @ West Lawn – Pose with our models for selfies.
1:30 pm – Fashion Show @ Marvin's Garden – See the show again (or for the first time!)
2:00 pm – Photo Ops @ Marvin's Garden Park – Pose for selfies.
Reusable Cups Campaign
Did you know that the paper cup used for your on-the-go coffee is probably not compostable? The thin plastic coating that keeps most cups from turning to mush makes them non-compostable. And your morning coffee's paper cup is recyclable only if you have first rinsed it clean of all coffee and milk. But even if cups are recycled, it still requires enormous amounts of energy and resources to manufacture and ship them.
We want to keep hundreds of thousands of paper cups out of the landfill and we hope you will participate with us in this effort. Sustainable Ballard now has a reusable coffee mug, available for a suggested donation of $20, with a bonus — discounts at local coffee shops!
You can be one of the first to own this good-looking, reusable mug — visit us at the Information Booth @ the FESTIVAL!   Click here to see offers from participating businesses.
Family Bike Expo
The Family Bike Expo is a great chance to try things you haven't seen before, or talk with family biking parents. Have fun and be inspired by riding!
Join local families who use their bikes as transportation and try out their family biking setups, including an electric-assisted Madsen bike, an Xtracycle, a Big Dummy, a trail-a-bike, a front mounted child seat, a bike trailer, a tandem, a recumbent trailer bike and more. Ask questions and enjoy the delight of riding with your kids! There will also be maps and route information, and information about the rest of Familybike Seattle's programs (cargo bike rentals, family biking seminars, and riding classes).
Leaves of Remembrance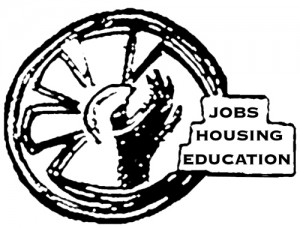 For more than a decade, The Homeless Remembrance Project–a collaborative community effort facilitated by the homeless women of WHEEL–has created places of hope, healing, and beauty to honor and remember homeless people who've died in King County.  The Project has two parts:  A beautiful "Tree of Life" sculpture and gathering place at Victor Steinbrueck Park (north of Pike Place Market), and "Leaves of Remembrance," with names, embedded in sidewalks throughout the City.
 ALL ARE INVITED TO WITNESS AND CELEBRATE the September 28th dedication of six new "Leaves of Remembrance" around Ballard Commons Park (where 25 Leaves already are).
We're remembering these beloved community members:  Jeffrey Parker Bouck, Kenny Stoddard, Will Johnson, Cecil "Marty" White Face, Michael "Mike" Sheely, and Marvin "Marv" Hosking, Jr.  We'll also rededicate/place a pre-existing Leaf for Karen Lee Pedersen.
 Please visit www.fallenleaves.org for stories and photos!
 The event starts with a 3:30 PM Ceremony at the Park.  Then there'll be a chance to share stories, memories, and refreshments at a Reception hosted at the nearby Bridge Care Center (at St Luke's Episcopal Church, 5710—22nd Avenue NW).  Please join us!
For more information: (206) 956-0334 or email wheelorg@yahoo.com
Websites: www.fallenleaves.org & www.homelessremembrance.org
Hands-on Harvest
Take a few cranks on the apple press and enjoy the sweet resulting cider. That's just one of our "hands-on harvesting" activities in the urban farm area at this year's Sustainable Ballard Festival. We'll be making cider with the Seattle Tree Fruit Society.
You can also winnow seed with the King County Seed Lending Library. Caitlin Moore will have seed from cilantro, arugula, lettuce, spinach, phacelia and other plants, along with the necessary equipment. Learn how to clean the seed and conserve it for sharing.
Or you could harvest mason bees. Crown Bees will be on hand with lots of mason bee cocoons in sleeves. By removing the cocoons from the sleeves for storage, parasitic mites can be destroyed and more bees will survive the winter. The activity does not include buzzing bees, but you can learn how these gentle bees can greatly benefit early-spring pollination.
Other attractions at the urban farm include a cloche and cold frame display by Cool Season Gardener author Bill Thorness, and live goats courtesy Lacia Lynne Bailey of the Seattle Farm Cooperative.