Solar Flair! @ the Fremont Solstice Celebration – June 16
Summer Solstice, SATURDAY, JUNE 16, 2018
4:00 P.M. until 7:00 P.M.
Gas Works Park
SUN-POWERED FAMILY ACTIVITIES
hosted by Sustainable Ballard
SOLAR COOKER DEMONSTRATION
See demonstrations of THREE different solar cooker designs and learn the advantages & disadvantages of each. Pick up instructions for how to build your own.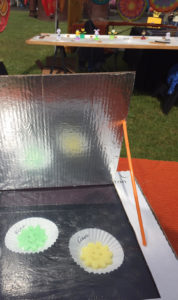 SUN-POWERED RUBBER DUCKY RACES
A small solar panel can power an electric water pump to push your ducky to the finish line
SOLAR ORNAMENTS & BEADS
Choose from a rainbow of colors to make a sun, leaf or star ornament or a bead from salt clay. Then cook it to perfection in one of our demo solar ovens.
SOLAR RACECAR FREE FOR ALL
Pick a solar race car and see how fast you can move it around the race track. Use a flashlight to power-boost your car.
For more information contact 
Jenny Heins
, Sustainable Ballard