Seeking Tool Library Manager
The Ballard Tool Library, located at 7549B 15th Ave NW, Seattle WA 98117, is a project of Sustainable Ballard which allows Sustainable Ballard supporting members to rent tools with a low cost donation. Tool Library hours are Thurs 5-7 pm, Fri 2-4 pm & Sat 9 am – 1 pm. Volunteers are trained to cover shifts at the library, so we are seeking a new Tool Library Manager to handle day-to-day operations. Pay is a flat rate of $500/mo which we expect to be about 20 hrs/mo. We are hoping to fill this position by Dec 1, 2022. If you are interested, please send your resumé and cover letter to our Executive Director.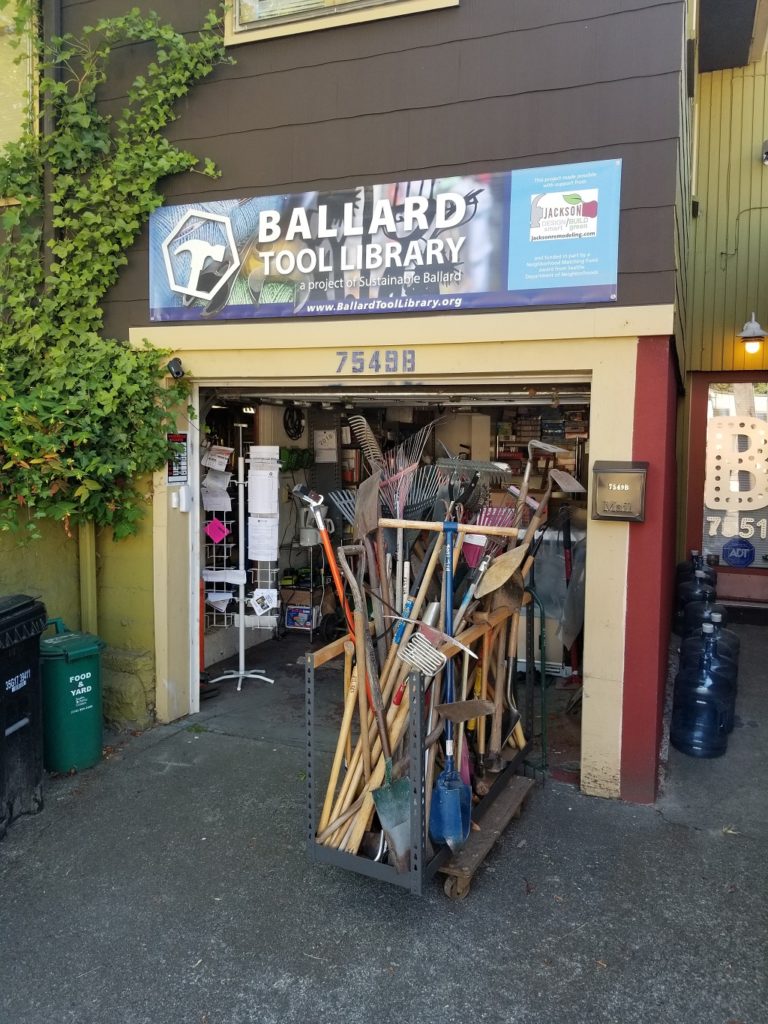 Background
The Tool Library first opened its doors in January 2018. At the Ballard Tool Library the term "tool" is broadly defined and may include home and garden tools, craft tools, cooking tools, boat repair tools, event equipment and more. Tool rentals are managed using MyTurn software. Tool Library members must sign a liability waiver. Volunteers meet once per month to discuss safety and strategies for improving the Ballard Tool Library offerings.
This position is more than just a job. It is a commitment to sustainability and support for the principles of Sustainable Ballard. As the leader of a group of volunteers, as opposed to employees, you will need to respect the differences and abilities of those who have elected to give their time and experience to the project. Your enthusiasm plus willingness to listen and offer support will be a major factor in smooth and successful operations.
Ideally, we are looking for someone with experience with non-profit organizations and a history of volunteering for community organizations. Supervisory experience is a plus but leadership experience is sufficient. Flexibility and customer service orientation is also important. Tool Library members are supporting members of Sustainable Ballard. A good experience at the Tool Library translates to an interest in Sustainable Ballard and all its projects and can lead to more members. It also creates a good sharing economy experience.
Job Description
Sustainable Ballard is seeking a resourceful, creative, committed, and organized Library Manager to oversee the long-term goals and daily operations of the Ballard Tool Library, including but not limited to: working within the budget, exploring marketing & fundraising, maintaining the tool collection and managing volunteers. The ideal candidate will have the drive and relevant experience to maintain the Ballard Tool Library as a vibrant resource for the Ballard community.
Scope of Work:
Oversee Tool Library Operations (inventory, donations, maintenance, loan process, paperwork)
Staff one 2-hour shift per week to stay current with on-site needs
Manage expenses within the budget
Report regularly to Executive Director
Provide regular updates of successes, opportunities for volunteers, workshops or other activities at the Tool Library to Marketing Director
Facilitate monthly online meetings with Tool Library volunteers
Respond to phone calls, emails and texts regarding the Tool Library in a timely manner
Recruit, schedule and orient Tool Library Volunteers
Seek suggestions, help and deputize volunteers for specific tasks as appropriate
Be available by cellphone during all open hours (or provide for a volunteer who is well trained to be available)
Keep Membership Manager advised of all new member sign ups or existing member renewals
Keep Ballard Tool Library website and MyTurn site updated as needed
Plan work parties as needed (inventory, sales prep, space organization, cleaning, etc.)
Organize and conduct 1-2 Tool Sales per year
Additional work as agreed upon
Status: One year contract position with expectation of extension based on review and available funding.
Qualifications: Management experience, leadership experience, familiarity with Tool Libraries, outgoing, adaptable, basic computer skills, communication skills, enthusiasm for public interaction.
Compensation: $500/month (approximately 5 hours/week), no benefits
Availability: Hours flexible, must be available some weekends and/or evenings
Reports to: Sustainable Ballard Executive Director
How to apply: Send as attachments resume and cover letter to Executive Director, Jenny Heins.