Seeking gardens + volunteers for the Edible Garden Tour
This year's tour — the 12th annual — will be on June 26th in SE Ballard, the area north of Leary and south of NW 65th and between 3rd and 15th Avenues NW.
If edible gardening and meeting new neighbors are of interest to you, we'd love your help with planning and pulling it all together. If you enjoy scouting raffle items, helping with promotions and advertising, helping find gardens in the designated area, or just putting your hand to any general needs that arise, please contact Alyssa and she'll set you up.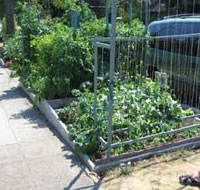 Are you in the zone? We'd love to hear from you! We're looking for edible gardens big and small. Show off your containers, chickens, bees, goats, fruit and nut trees, berries, raised beds, aquaculture, kiwi vines, vertical gardens, permaculture – any style of food production.
Come be part of the fun, and mark your calendar for Saturday, June 26th for the tour.