Rain Fest! @ the Fremont Solstice Celebration – June 16
Summer Solstice, SATURDAY, JUNE 16, 2018
4:00 P.M. until 7:00 P.M.
Gas Works Park
RAIN-POWERED FAMILY ACTIVITIES
hosted by Sustainable Ballard
CISTERN DEMONSTRATION
See demonstrations of THREE different cistern designs and learn the advantages & disadvantages of each. Learn how you can manage stormwater at home.
CREATE YOUR OWN RAIN GARDEN PLAN
Choose one of 3 garden designs and use plant stickers to layout the rain garden of your dreams. Take home your design plus a plant list for attracting birds, bees and butterflies.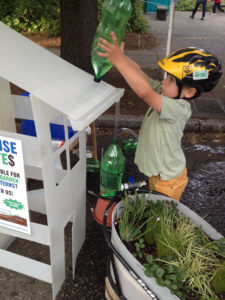 RAIN IN ACTION
Sprinkle rain on the model house and watch how it flows into the model cistern which overflows into the model rain garden.
MAKE RAIN-ART
Have you ever wanted to try marbling paper? We'll have marbling paint, water and paper on hand so you can make your beautiful artwork.
For more information contact 
Jenny Heins
, Sustainable Ballard