Office of Sustainability and Environment: "Livability Night Out" – Apr 19
6:30pm – 8:30pm; Museum of History and Industry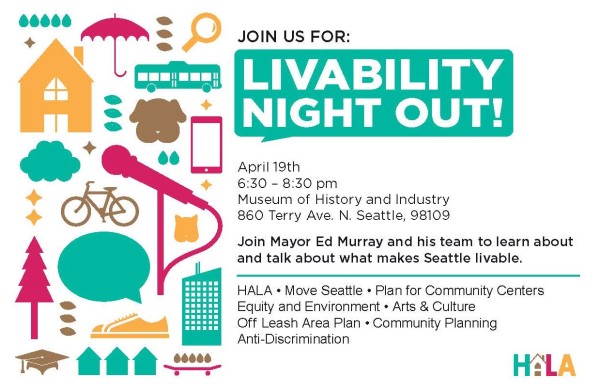 Join us for a "PechaKucha" style word slam about the livability of our city.  We will have local talent to entertain and an opportunity to find out what many City programs are up to. HALA will be featured and you can find out what is in store for Housing Affordability and Livability Agenda in the city.
6:30 – 7:15pm Open House
What will happen at the Open House?  Attendees will have a chance to discuss policies and proposals with City staff one on one. When you get all your questions answered you can enjoy the history of Seattle by visiting the rest of the museum.
The Mayor and his Department Directors will be on stage to do an update on how they see the vision of a vibrant Seattle coming through the programs they lead.  This program will be lively and fun.
8:00 – 8:30 pm Q&A with the Mayor
– See more at: http://greenspace.seattle.gov/2016/04/join-us-for-livability-night-out/#sthash.Q1rExsv2.yNN7GBBG.dpuf