Northwest Green Home Tour – Apr 25 & 26
The Northwest Green Home Tour is a free annual public event, produced by the Northwest EcoBuilding Guild, that showcases local, sustainable and green new homes, remodels, and energy retrofits in the greater Seattle area. The 2015 tour will take place on April 25 and 26.
Tickets for the 2015 Northwest Green Home Tour are now available. If you haven't already, reserve your spot today. Tickets are free, but there's a new option this year thanks to a new partnership with Tesla Motors. If you make a donation of any amount when you go to reserve your ticket, you and up to three friends will be entered to win a two-hour chauffeured tour of the homes in a Tesla Model S.  Two lucky groups will win.  All donations go to support the nonprofit Northwest EcoBuilding Guild, which helps promote sustainable building practices in our region.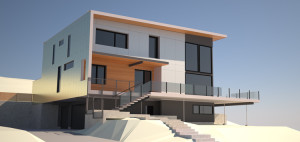 The 2015 Northwest Green Home Tour is a two day event. Tour sites are split between Saturday, April 25th, and Sunday, April 26th.  Explore the sites here.