New Board Member and Grandmother of Four!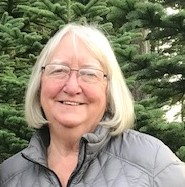 WHY DID YOU JOIN SUSTAINABLE BALLARD?
I wanted to join an organization that would help me connect with all of my neighbors, not just the ones on my block in Loyal Heights. Sustainable Ballard's programs will help me stretch myself to be more involved in issues that affect the most vulnerable people.
HOW LONG HAVE YOU BEEN A MEMBER OF SUSTAINABLE BALLARD?
1 year
WHAT PROJECT(S) ARE YOU CURRENTLY INVOLVED IN?
Sustainable Ballard Board
Gleaning Programs
WHAT WAS THE FIRST SUSTAINABLE BALLARD EVENT/PROGRAM YOU ATTENDED?
The Festival
WHAT DO YOU ENJOY MOST ABOUT BEING A MEMBER OF SUSTAINABLE BALLARD?
It is connecting me with people who are serious about contributing to our Ballard neighborhood and helping Ballard be more inclusive.
SHARE A FUN FACT ABOUT YOURSELF
I entertain myself by spending time with my 4 young granddaughters. We vacation together at the ocean, go hiking to discover new birds, and compete at playing cards.