Environmentalist and Hiker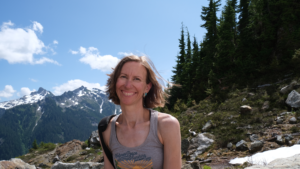 WHY DID YOU JOIN SB?
I believe in the power of communities to make positive change in the world. Sustainable Ballard is a grassroots organization that works to protect the environment – a cause close to my heart! I love how easy Sustainable Ballard makes it to participate, from being connected to other neighbors with rain gardens through their RainWise program to embracing member ideas, such as local Black Lives Matter demonstrations.
HOW LONG HAVE YOU BEEN A MEMBER OF SB?
8 years
WHAT PROJECT(S) ARE YOU CURRENTLY INVOLVED IN?
Game & Puzzle Swap
Rainwise
WHAT WAS THE FIRST SB EVENT/PROGRAM YOU ATTENDED?
Hmmm… I don't remember. Maybe one of the annual festivals?
WHAT DO YOU ENJOY MOST ABOUT BEING A MEMBER OF SB?
Connecting with other members of our community and learning about the many ways our neighbors are helping each other and the planet.
SHARE A FUN FACT ABOUT YOURSELF
I'm able to get dirt on my nose even when I'm hiking wearing a mask! (See picture for evidence.)