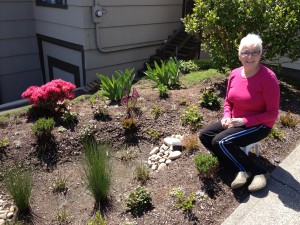 "Getting RainWise could not have been easier!  I learned about the program via a mailer from Seattle Public Utilities, and I went online right away.  I noticed that one contractor was right up the street, so I gave them a call.  The folks at Monsoon Rain Gardens handled everything for me  – all I did was sign my name!
I love my rain garden – I look out at it every day, and I really do enjoy it.  My neighbors do, too – people stop by and comment on it all the time.
My motivations?
Number 1 – Esthetics. I love to look at pretty things, and my rain garden is just beautiful!
2 – Ease – now there's less lawn to mow.
And  3 – For the environment. It feels good to know that this lovely feature in my yard is also good for Puget Sound.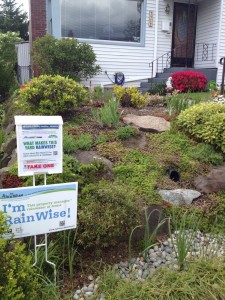 I look forward to seeing the changes as the plants all grow in.  It's also fun to watch my rain garden fill in the rain.  So far I've only seen it half full – and the next thing I knew, the water was gone.
My rain garden gives me such pleasure – thank you, RainWise."
• Rain Garden (installed Dec., 2013)
• Design by Monsoon Rain Gardens
• 522sf Roof Runoff captured
• $1932 Rebate, 100% of total cost