Less Stuff, More Room (Part 4)
Part 4 of a series designed to help you find opportunities to free yourself from the stuff that clutters your home and your head.
Say NO to the landfill, and YES to reusing and recycling.
None of us wants to add to the landfill in Arlington, Oregon (that's where Seattle's trash goes). For anything with any kind of life left in it, we want to find a recipient, but this can be really hard for things that don't go in our curbside recycling bin. Or maybe Goodwill isn't where you want your "stuff" to go. So, here is a helpful idea for dealing with your stuff. And stay tuned … with each upcoming newsletter we'll share more ways for you to get rid of your stuff.
This time, we're focusing on local treasure, Ballard ReUse, a place where you can send your old, salvageable household materials like doors, windows, lights, cabinets, toilets and/or find some great materials at a low cost for your next project.
Ballard ReUse opened in June, 2014 and was previously known as Ballard ReStore. They currently have 11 employees with a full-time crew that goes out to salvage buildings including homes, schools and restaurants, to keep reusable materials out of the landfill. This process eliminates the carbon emissions associated with the sourcing, manufacturing, and transportation to market of new building materials. Repurposing materials is an important component of fighting the Climate Crisis.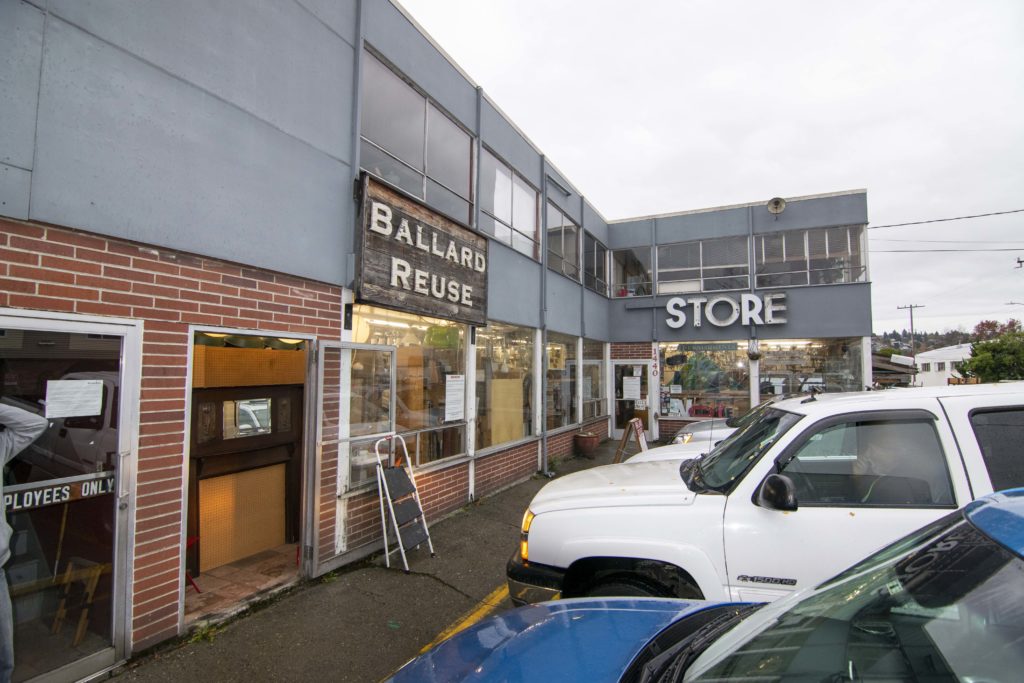 Ballard ReUse's warehouse / showroom is open seven days a week which is helpful for the weekend warrior remodeler. Currently, because of COVID-19, they're asking customers to schedule an appointment and limiting the amount of people in the store at one time.
With a large warehouse and an outdoor storage area, Ballard ReUse offers a unique blend of hard to find building materials – antique lights, doorknobs, windows, doors, trim, tile, lumber, furniture, etc…
When you get done with your estate sale, or, if you simply want to avoid having one, contact Ballard ReUse and depending on the stores needs and inventory, they can send someone over to check out what you have and might even haul it away to their store for you.
Their salvage services include – "a garage or basement full of stuff; kitchen remodels; Grandpa's barn full of hoardings; gutting a home or business space; partial or full demolition and commercial remodels and retrofits."
Customers can also haul materials down to Ballard ReUse until one hour before the store closes each day.
Things that Ballard ReUse doesn't take include hollow core doors, carpet and fluorescent lights, items with damage, rot, mold, missing parts, items that are unlikely to sell or that they already have too much of that's not selling.
Currently, Reuse is offering shopping by Appointment Only and Personal Shopping/Curbside pickup and their Salvage Crew is available for salvages and pickups. If you have materials you think they might want, click here for Salvage Services or email receiving@ballardreuse.com.
Hours 9AM to 6PM, seven days a week. Donations are accepted up until 5PM.
http://ballardreuse.com/
206-297-9119
store@ballardreuse.com
1440 N.W. 52nd St., Seattle, WA 98107