Applications Being Accepted for SDOT's Parklet Program and Streateries Pilot Program through Mar 20
Do you have a great idea for a small public space in your neighborhood? Now is your chance to pitch that idea by applying to host a parklet or streatery!
We're pleased to announce the launch of Seattle's permanent Parklet Program, and businesses and community groups are invited to apply for a spot in the program. As you probably know, a parklet converts a couple of on-street parking spaces into public space, open for anyone to use. Parklet hosts are responsible for all costs, including design, construction, and ongoing maintenance. We've got six parklets in Seattle already and are excited to see what ideas you propose.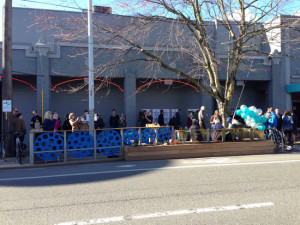 But what's a "streatery," you ask? Well, with the success of both sidewalk cafés and parklets in Seattle, we're also rolling out "streateries," a new type of seating in the street that combines the best of both worlds. Streateries, like parklets, are small open spaces constructed in a parking spot. And like sidewalk cafés, streateries provide outdoor seating for local businesses.  Streateries provide a new option for activating a parklet in different ways throughout the day—sometimes as public space and sometimes as a café with table service. And streateries make it possible for businesses in areas with narrow sidewalks to have sidewalk cafés, too.
Now you've got a decision to make! This year, as part of our new call for parklet applications, you can apply for a parklet or for a streatery (if you meet certain criteria). The number of parklets we accept will depend on the number and distribution of applications. We will accept about 15 streatery applications this year and, if all goes well, streateries may become a permanent addition to the parklet program in 2016.
Our new 
Parklet Handbook
 tells you everything you need to know about designing, permitting, and building a parklet or streatery in Seattle. Applying to the program is easy! You need to submit an application form, three letters of support from your community (four if you want a streatery), a simple site plan showing the ideas for your parklet or streatery, and a few photos of the proposed location.  Check out the application guidelines in the 
Parklet Handbook
 for all the details.
All application materials must be emailed to 
parklets@seattle.gov
 by 5:00 p.m. on March 20, 2015. You can contact us via email or at 
206-684-5267
 with any questions. And our 
website
 is full of great resources as well. We look forward to receiving your proposals!
Seattle Parklets
Public Space Management Program, Street Use & Urban Forestry