12th annual Strengthening Local Economies Everywhere (SLEE) Dinner – Sept 29
Community Alliance for Global Justice
Celebrates 17 Years of Mobilizing for Food Justice Around the World
12th Annual Strengthening Local Economies Everywhere (SLEE!) Dinner
Saturday, September 29th, 2018
Happy Hour
5pm
, Dinner
6:30pm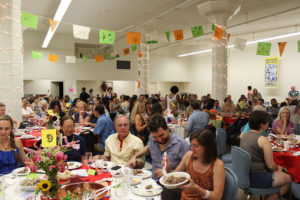 Enjoy a delicious locally sourced and Fair Trade meal while learning about relevant issues and networking with small-scale farmers, advocates, and allied organizations. Support your local economy and be part of the vibrant food justice community by buying a ticket today!
"The Legacy We Inherit: Luchando por una Vida AgroEcológica"
Edgar Franks organizes farmworkers with C2C in Bellingham, WA. In his keynote, he will reflect
on
agroecology
as a way of life and share their work to ensure the needs of migrant farmworkers are represented on the path toward food sovereignty. Amidst the current political context of deportation raids on workers at the backbone of our food system, we will uplift a liberatory vision that connects food justice and immigrant justice. Join us to celebrate farmworkers who are building community self-determination!
This event is wheelchair accessible. Free childcare will be available for kids aged 2-11 from
6:30 – 9pm.
For more information, please contact CAGJ at 206-405-4600 or
slee@cagj.org
.