Remember the T-shirts? Seattle Rain Festival: January through December. Ha! We are indeed blessed with abundant water and a green environment, but all this rain also creates problems. During heavy rains, our storm water system overflows, and combined sewer overflows pollute our precious Puget Sound.
Fortunately, there's something homeowners can do to help out: Get RainWise! In much of North Seattle*, property owners can get beautiful and functional landscaping, and store rain water for watering gardens, with up to 100% of the cost paid by the City of Seattle. Really!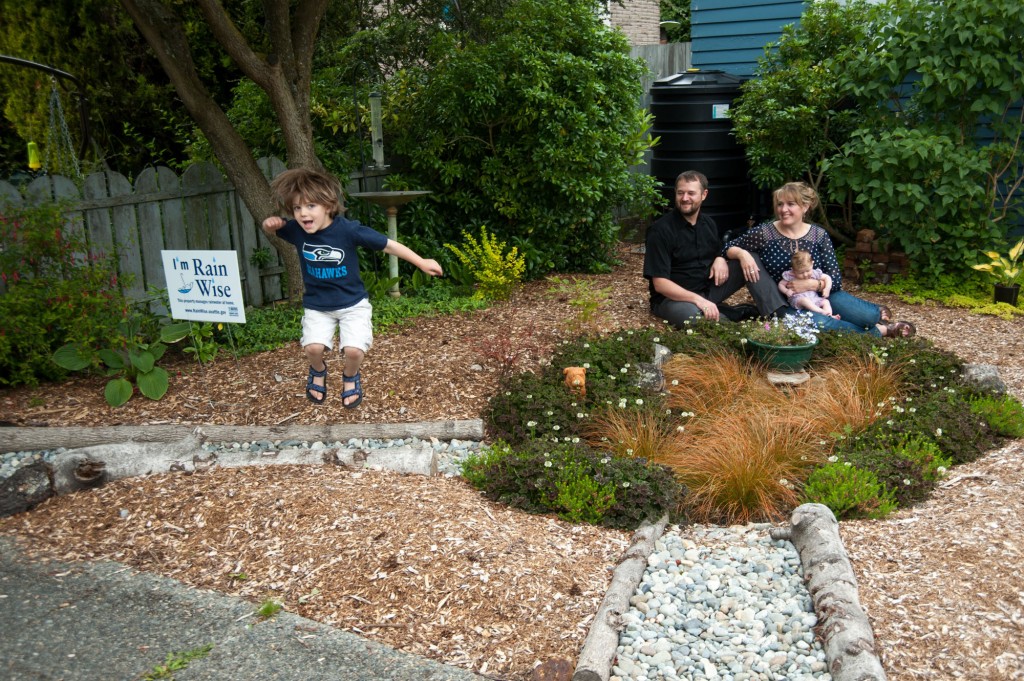 Sustainable Ballard is excited to be partnering with Seattle Public Utilities and King County to get the word out about RainWise rebates. This program is a win-win-win for homeowners: Our storm water is safely managed on site, we get enhancements to our yards and property, and the average RainWise rebate is $4,400. Over 300 (and counting!) North Seattle households have already taken advantage of this program.
We're here to walk you through the RainWise process.  Please browse the RainWise Resources in the right sidebar.
* Check your address at rainwise.seattle.gov .
Why Get a Rain Garden and/or Cistern(s)?
WE HAVE A SERIOUS PROBLEM WITH STORM WATER RUNOFF. 
When it rains, runoff flows from our roofs and yards, carrying oil, fertilizers, pesticides, sediment and other pollutants downstream.
Storm water is the #1 polluter of Puget Sound.
The problem is made worse in Seattle, where our antiquated sewage system combines storm water and raw sewage in one pipe.
During a hard rain, this mixture of toxic runoff and raw sewage is too much for our sewage treatment plants to handle, and the excess is dumped directly into the Sound.
Overflows happen an average of 318 times per year.
In 2010, 190 million gallons of untreated sewage and toxic storm water flowed into our lakes, streams, and Puget Sound.
This damages water resources and harms aquatic life.
YOU Can Be a Part of the Solution: Get RainWise!

LANDOWNERS WITH RAIN GARDENS AND/OR CISTERN(S) ARE MANAGING STORM WATER AT HOME – AND RAINWISE REBATES ARE HERE TO HELP. 
A rain garden acts like a native forest by collecting, absorbing, and filtering storm water runoff from rooftops.
Rain gardens are simply shallow depressions constructed with soil mixes that absorb water quickly and support healthy plant growth.
They can be shaped to fit your yard and can be planted with a variety of plants to fit your landscape, including edibles.
Cisterns are above-ground tanks that capture rainwater from your roof, allowing you to use it for watering during dry spells.
RainWise will rebates average 86% of the cost of installing a rain garden and/or cistern(s).
The average RainWise rebate is $4,400. Learn More about Rebates
The Process: Easy as 1-2-3!
Step 1 See If You Qualify for a RainWise Rebate (just type in your address!)
Step 2 Find a RainWise Contractor
Step 3 Get Your RainWise Project Installed & Claim Your Rebate
Most contractors will handle all the paperwork.

Project Contact: Jenny Heins