A letter home.  That could be the first small step to reconnecting homeless individuals with their loved ones, to re-establish a relationship long neglected, or simply to say "I'm ok".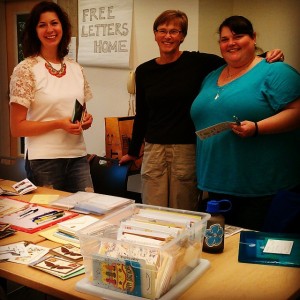 Free Letters Home™ offers the homeless community the opportunity to reestablish relationships and connect with loved ones via a mailed letter or card. Volunteers from this organization set up a table and offer greeting cards, postcards, stationery, stamps, help and encouragement in hopes that our guests will take the opportunity to write and mail a card or letter.  The support of Sustainable Ballard and its members through generous donations of cards, stamps, and volunteer hours has been key to the success of this project. At Free Letters Home™, we know we can't solve all of someone's problems with a letter and a stamp, but we can offer dignity and respect to our neighbors and let them know they are validated and cared about by the community.
When Bev, the leader of this project, first read about Free Letters Home™ in a magazine, the power of that simple act struck her as something she could easily support.  Then she checked out their website and saw that no one had yet volunteered to serve the Ballard area, and she thought "I can do that!".   The Everett couple that started Free Letters Home provided her with a starter pack of stationary and stamps and she's been setting up shop for a couple hours a month since July 2013 at Nyer Urness House, which opened in Ballard in April 2013.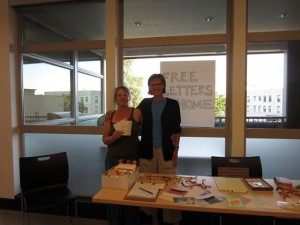 Bev shows up with her supplies and serves about a half dozen people on each visit.  Sometimes letters are already written and waiting for her to mail.   Sometimes the sender needs a little more assistance ("I have lousy handwriting, can you write it for me?").  But mostly, she just helps people re-establish relationships.  Like the woman who was thrilled to be able to write to friends and loved ones.  The woman writing to her son, who is in prison.  Or the man who hadn't spoken with his brothers since their father passed away, and wanted to reconnect.  That's what it's all about.
I am sure that I even saw a few skips of joy in her feet as she left the table to get started on her letter.
If you're thinking "I can do that!", here's how you can help:

Volunteer:  Additional people are needed to help expand the number of monthly visits to Nyer Urness House and to serve more locations like Ballard Food Bank, The Bridge Care Center the new Urban Rest Stop in Ballard or under the Ballard Bridge where Stone Soup Group serves food on Sundays.
Donate a table:  Nyer Urness House provides a table, but a portable, lightweight, folding camping-style table would be necessary at the other locations.  Do you have a table you're not using?
Donate supplies:  Stamps, stationary, envelopes, stickers and pens are always needed.
Holiday card donations are also needed.  While some people like writing their own words, others prefer a pre-written message.  Mail donations to Free Letters Home, 5403 W. Highland Road, Everett, WA 98203 (which distributes starter kits to new volunteers) or contact Bev directly at the link below.
Project Contact: Bev Beppler