Call for Participants – 10th Annual Festival!
Planning Committee: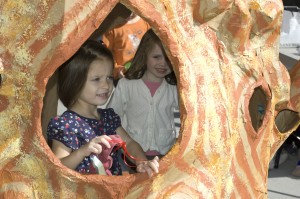 This homegrown, hands-on, human-powered annual festival is a key community asset! We love creating this energized place for neighbors to gather, share and learn together together about living more lightly on the earth, and build community right in our own Ballard backyard, Ballard Commons Park. As always we'll be relying on our neighbors to identify the best ways we can work together for a strong, safe and healthy community.  If you'd like to be part of the party planning, contact Jenny or please join us for our next festival planning meeting (open to everyone!).
Sponsors: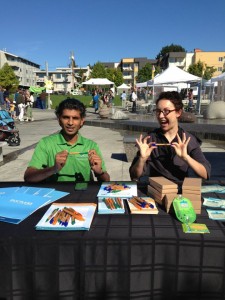 Sustainable Ballard depends on the generosity of local environmental organizations and green businesses in order to stage the festival every year. By educating the public about developing sustainable lifestyles and communities, your organization or business is placed in a relevant context. Please continue your support for Sustainable Ballard by becoming an event sponsor. In addition to our sponsorship categories, we also welcome in-kind donations of services and advertising.  Sponsorships range from $150 to $3000, with increasing exposure.  Sponsors of every level are invited to set up an exhibit space during the day of the festival.  All sponsors receive recognition on our website and publicity in our festival guide, promotional materials and at the festival itself.  Visit our festival sponsor page for more details.
Presenters and Artists: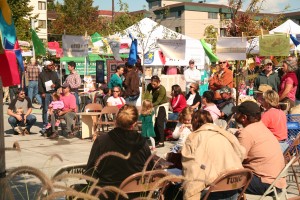 The Sustainable Ballard Festival always features many educational, hands-on and interactive sessions.  Topics range from cheese-making to bike repair, how-to install a solar hot water heater to how-to get started in socially-responsible investing.  Plus, great music, skits, and activities for kids.  We would love for you to join us with your sustainability presentation, workshop, discussion, demonstration, etc.  If you have a topic to share, or an idea you would like someone else to teach, please let us know!  Please email us with your ideas or proposals.
Volunteers:

It feels great to volunteer!  Plus, volunteers get great perks:
a free t-shirt
access to hospitality lounge at the festival
sneak previews of the weekend's activities
volunteer appreciation party
Learn more here!  If you are interested in offering your help at a pre-festival work party or at the Ballard Commons Park, please email: volunteer@sustainableballard.org