What's on the menu in 2013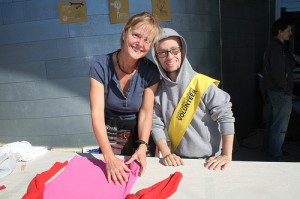 We're off to a Great Start!
Thank you to everyone who came out to our first 2013 Open House and especially to the many volunteers who helped make it a great success: Jean Davis, Natacha Frazier, Jody Grage, Ken Cousins, Bridget Smith, Courtney Rosenstein, Julia Field, Julia Park, Jennifer Mundee, Orna Locker, Jenny Heins, Jessica Lee. Thanks to Jeff Gentes who stopped by to film a segment for The Seattle Channel's CityStream Series (we'll let you know when it airs!)
What a wonderful way to inaugurate our new "home" at Soma Yoga Studio, meet new neighbors, and introduce the projects and activities we will be offering this year. We had a great turnout, press coverage, pastries courtesy of Great Harvest, coffee kindly donated by Equal Exchange, and fun was had by all.
Below are the projects and activities proudly presented at the Open House for the coming year.
Please get in touch with the project Lead for more information or if you'd like to get involved – they would love to hear from you!
•  RainGardens and Bioswales Bike Tour – April 21st. Contact Jenny
•  Tour the Bullitt Center – the greenest commercial building in the world – April 22nd. Contact Courtney
•  Legislation for Sustainability, contact Jody
•  Food Gleaning (from Farmers Market to the Food Bank), ongoing. Contact Jennifer
•  Little Free Libraries. Contact Julia
•  Seven Wonders of Ballard Bike Ride, date TBD. Contact Jean
•  BUG (Ballard Urban Gardeners). Contact Michael
•  Ballard Knitters for the Homeless, ongoing. Contact Jody
•  New Economy Circle (now reading Local Dollars, Local Sense). Contact Orna
•  B Green: Green Retrofit and Renovation Talks. First talk in May. "We are seeking site hosts and speakers". Contact Eric Thomas
•  Edible Garden Tour, June 29th. Contact Jennifer
•  10th Annual Festival, Sept 29th – Sign up to help plan the fest! Contact Jenny
More ideas are cooking as well! Watch for more details in upcoming newsletters. We hope to see you and work with you in one or more of these soon.
Here's to a productive, joyful new year!