Sustainable Ballard Cooks Again! Volunteers needed.
Sustainable Ballard Cooks Again!
Help strengthen our community while having fun cooking with Sustainable Ballard friends and neighbors!
Beginning this May, 10 Ballard churches are coming together to provide a nourishing meal every Sunday night at Ballard First Lutheran Church (NW 65th and 20th NW).  This is a special project that accomplishes many simultaneous goals, including an opportunity to serve up kindness, smiles, socializing and recognition along with the meal to people who have suffered much hardship, invisibility and disregard in their lives, an opportunity to enhance the residents' meals with our choice of healthy foods and desserts, and an opportunity to develop comfort with and interact with previously homeless men and women in a safe environment. Sustainable Ballard has been invited to partner with these churches on 1st, 2nd and potentially 3rd & 4th Sundays.
Shifts will be approximately 3:30-6pm and 5:30-8pm and could include preparing food, serving, sitting with the guests, and cleaning up. In addition, there will be opportunities to help with meal planning and shopping ahead of time.  No cooking experience required! We hope everyone who has the time can find a role that's a fit in this!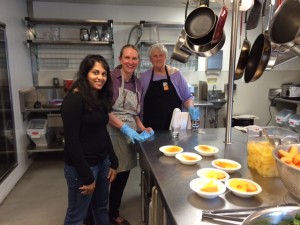 Our previous participation at Nyer Urness House has shown us that this is an experience that never fails to produce joy and gratitude for dinner guests and volunteers alike.
For more info, contact Camilla and let us know if you are interested in:
1) volunteering at meals
2) helping with prep before the day-of-the-meal – meal planning and/or shopping
3) assisting in another role – fundraising, team coordination, taking the lead on a 5th Sunday meal