SGBN Presents: Local Investment Clubs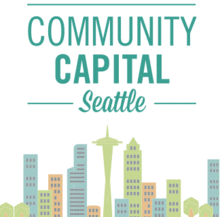 Curious about investing locally? Want to know how to do it with friends and neighbors? Come explore how local investment clubs and networks can benefit our local economy and help accredited & unaccredited investors alike make money while making a difference.

This month, the Seattle Good Business Network's Community Capital: Seattle series is taking up the topic of local investment clubs.  Join us on Wednesday, November 20th, to hear a panel discussion with local experts who are directly involved in local investing.  The evening session will include networking and a locally-sourced happy hour!

Moderated by Tim Crosby of Slow Money Northwest, the panel will include:

Michelle Sandoval, Pt Townsend LION (Local Investing Opportunities Network
Crystie Kisler, Finnriver Farm & Cidery (business recipient of LION investment)
Renata Kowalczyk, Whatcom Investing Network, and
Ammen Jordan, Seattle Impact Investing Group

The event is held at Bainbridge Graduate Institute Downtown (220 2nd Ave S, 4th floor) otherwise knows as Impact Hub Seattle.  For tickets to the November events click here.

This ongoing series will also explore cooperatives; creative community loan models; crowdfunding, CSAs, and pre-sales; community banks, credit unions, and CDFIs; and Direct Public Stock Offerings as ways to move money into our local economy. More info about the entire series available at www.seattlenetwork.org/commcap.