Park the car and ride, walk or roll to the Festival, taking in all that Seattle Summer Parkways has to offer in Ballard on August 27th.  And in addition to Ballard, you have two other opportunities to enjoy Parkways events — in Rainier Valley and West Seattle, giving YOU the opportunity to bike, skate, run, play and dance in the streets.

Summer Parkways are free, all-ages events that open up the city's largest public space – our streets – for you, your family, friends and neighbors to come out, enjoy the sun, have fun, enjoy outdoor activities, discover cool local businesses, delicious restaurants and cafes, and explore more using healthy active transportation to celebrate the spirit & personality of some of Seattle's amazing local communities.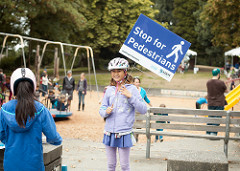 At Seattle Summer Parkways 2016, you'll be car-free and care-free adventuring through the neighborhoods of Ballard, West Seattle and Rainier Valley via a several mile route, while visiting parks full of live music and activities all along the way. This year we'll be coordinating our events with the Sustainable Ballard Festival, Seattle's Big Day of Play and the Rainier Valley Heritage Festival for even more fun!
This is Seattle Summer Parkways.
Rainier Valley- August 13, 2016 – 12:30PM to 4:30PM (Parade starts at 11:00AM)
Ballard- August 27, 2016 – 11:00AM to 4:00PM
West Seattle- September 25, 2016 – 11:00AM to 4:00PM
Seattle Summer Parkways will also give you the chance to test out new or planned bikeways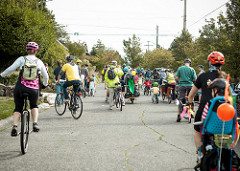 that link together city parks, community centers, and other community spaces. At parks along the route, Seattle Neighborhood Greenways, Seattle Parks and Recreation, Cascade Bicycle Club and many other organizations will host activities, events, and live music.
Get out and explore your city, meet your neighbors and cruise carefree.
Sign up for the Summer Parkways Newsletter to stay up to date on the details of these exciting events!
Ballard Summer Parkways August 27, 2016 – 11:00am – 4:00pm
The second event in our series will bring the fun back to Ballard!  We are partnering with the Sustainable Ballard Festival, Seattle Parks and Recreation and dozens of community partners to bring safe streets and sunny fun to Ballard. This route will highlight some of the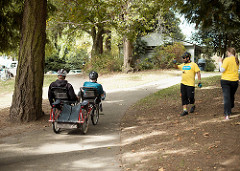 beautiful natural areas and vibrant neighborhoods located in Ballard, such as Ballard Commons Park, Ballard Corners Park, Salmon Bay Park, Loyal Heights Community Center, Sunset Hill Park, Bergen Place Park and the myriad shops and businesses along Ballard Avenue.
We want you to participate! To host an activity and promote your cause during the event, sign up to participate by filling out our easy application. Participation is free, come out and show Seattle what Ballard is all about!
Here are just a few of the activities you can expect to find at Ballard Summer Parkways:
Tea Garden provided by Miro Tea
Solar Garden with Solar Powered Rubber Duckies, Ovens and more
Build a birdhouse out of campaign signs!
A Farm and Garden Zone with Petting Zoo
Ballard Summer Parkways
See below for event route!
And so much more!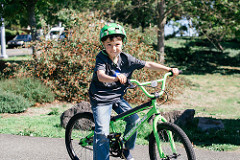 We still have plenty of room for partners, SIGN UP to partner with ustoday and show Ballard what you're all about. 
Volunteer for the events! We have a shift for everyone. Regardless of ability. Find out more and sign up to volunteer today!
To learn more about upcoming Summer Parkways events, sign up for our newsletter.