Meaningful Movies: "Activized" – June 22nd
Meaningful Movies: Sustainable Ballard presents "Activized: It's the American Thing to Do"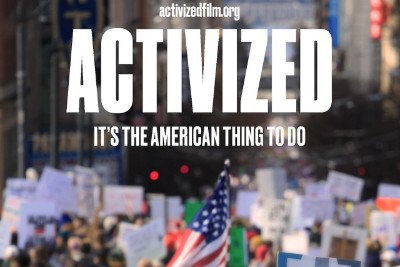 Mon, June 22:
5:45 pm Screening
6:30 pm Discussion
Please join us to view and discuss Activized: It's the American Thing to Do.
"Activized" is a 36 minute documentary that profiles a handful of ordinary Americans who — for the first time in their lives — have left their comfort zones and become involved in gun violence prevention, voting rights and immigrants' rights.
Interweaving their personal stories against the backdrop of the causes they fight for, we experience their motivations, successes and failures, their sacrifices, and victories. Above all, we celebrate these inspiring, courageous citizens for embracing one of the most basic of American traditions – dissent.
More about the film at: https://www.activizedfilm.org
After registering, you will receive a confirmation email containing a viewing link and a discussion link.
Additional Recommended Social Justice Films in June
JUNE 17 – SUPPRESSED: THE FIGHT TO VOTE Register
JUNE 25 – DEMOCRACY REBELLION: A REPORTERS NOTEBOOK Register
JUNE 30 – SLAY THE DRAGON: END GERRYMANDERING OR DEMOCRACY WILL DIE Register
Read below for full descriptions.
Meaningful Movies: Spokane presents "Suppressed: The Fight to Vote" Weds, June 17 6:30PM WATCH TRAILER
Suppressed: The Fight to Vote, the new documentary by Robert Greenwald (Director of Outfoxed, Walmart: The High Cost of Low Price, and Making A Killing: Guns, Greed, & the NRA) weaves together personal stories from voters across the state of Georgia to paint an undeniable picture of voter suppression in the 2018 midterm election where Stacey Abrams fought to become the first Black female governor in the U.S. The issues Georgians faced included polling place closures, voter purges, missing absentee ballots, extreme wait times and a host of voter ID issues – all of which disproportionately prevented many students and people of color from casting their ballots.
Suppressed: The Fight to Vote features experts, poll watchers and everyday Georgians speaking to the reality of voter suppression and the threat it poses in 2020. In a race that was ultimately decided by 54,723 votes, the film exposes that the basic constitutional right to vote continues to be under siege in America.
Spokane MM will show the movie on ZOOM at 6:30 then have a facilitated conversation afterward. Panel is Vicky Dalton Auditor Spokane County, Petey Hoy and Eileen Martin.
HOW TO PARTICIPATE
Contact barbstuebing@gmail.com for information about how to access the zoom event.
Fix Democracy First presents "Democracy Rebellion"
Thurs, June 25th, 5:00PM WATCH TRAILER
Join Fix Democracy First for a FREE film screening and discussion of The Democracy Rebellion with special guest, filmmaker, author and award winning journalist Hedrick Smith!
Democracy Rebellion: A Reporter's Notebook is a documentary by Hedrick Smith, an award winning journalist, reporter and former editor for The New York Times, a producer/correspondent for the PBS show Frontline, and author of several books. Smith traveled the country looking for positive stories of democratic reform and findsthem in six states where grassroots activists are fighting to equal the playing field, including Washington State's I-735 campaign.
After registering, you will receive a confirmation email containing information about joining the webinar.
Fix Democracy First presents "Slay the Dragon"
Tues, June 30th, 6:00 pm WATCH TRAILER
A secretive, high-tech gerrymandering initiative launched 10 years ago threatens to undermine our democracy. Slay the Dragon follows everyday people as they fight to make their votes matter.
Slay the Dragon is a 2019 documentary film about gerrymandering in the United States from Participant, directed by Barak Goodman and Chris Durrance. The film follows citizens' groups as they work to end the practice of gerrymandering, which they see as undermining democracy. It features Katie Fahey, the activist who founded Voters Not Politicians and led a successful grassroots campaign to ban partisan gerrymandering in Michigan.
The event will also feature a discussion on gerrymandering reforms with:
Cindy Black, Fix Democracy First, Executive Director – Moderator
Lisa Ayrault, FairVote WA, Director
Mohit Nair, FairVote WA, Partnerships Director
Alison McAffree, LWV of WA, Census & Redistricting Issues Chair
This is a FREE event, but we encourage people to support your local theaters and purchase an online here: https://www.slaythedragonfilm.com/tickets/