Look for these special attractions at the festival:
Make a Birdhouse with Built Green
We've pre-cut old Green Home Tour directional signs, and we'll have hole punches and zip ties on hand to pull them together, so all is ready for you to assemble your own bird house! Visit the Built Green booth during the Festival and build a home for some feathered friends.
Make a Batik Unity Flag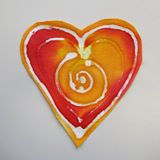 Love Wins Love will be at the festival making batik unity flags to decorate the Tent City encampment on Market Street and "build empathy, reweave our community and inspire ideas for real solutions to homelessness".
Make Bottlecap Crafts and More!

Stop by the Creativity Corner to try one of many possibilities for creating bottlecap art! Make a flower, a bug, a sailboat, a percussion instrument and more! We'll have colorful plastic and metal bottlecaps available for your use. Also at creativity corner: Make a salmon hat, a jigsaw puzzle, an origami box, an animal mask or just have fun putting together your own creation with all of our fabulous previously used materials.
Green Cheers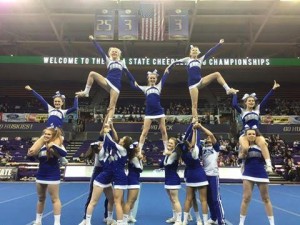 Sustainable Ballard is excited to announce that members of the Ingraham High School Cheer Squad will be volunteering at this year's festival. In addition to leading fans at football and basketball games as they cheer their Rams to victory, they also compete on their own.  Last year they went to the State Cheer competition at the UW for the first time ever and got a taste of what it takes to compete at that level. Of course it takes more than just hard work to get there; it also takes money to pay for entrance to each competition, transportation, props and choreographers.
We love that the Cheer Squad is going beyond just ASKING for money and wants to EARN it by giving to the community. They'll be joining our "Green Team" at the festival, cheering on festival goers as they find the right place for their recyclable and compostable waste. Keeping compost and recyclables out of the waste stream is an action worth cheering and we hope you will cheer them back by making a donation to the squad at one of our Resource Recovery Stations. You can look at your donation as doing double duty – helping IHS Cheer, and helping them donate time to Sustainable Ballard.
If you won't be in town they will gladly accept your check made out to IABC Cheer and mailed to 1819 N 135th St., Seattle, WA 98133.
School of Rock Performance
Sustainable Ballard welcomes School of Rock Seattle youth and teen band performances from 3pm to 3:45pm. The performances are a promo for the GreenwoodBlastsOff Community Summer Concert, a free, all-ages, outdoor education and outreach event featuring live music and art: Sunday, August 28, noon to 6pm @ Fred Meyer Greenwood, sponsored by Let Them Rock. After the Festival on Saturday, plan to finish up your weekend at GreenwoodBlastsOff on Sunday!
FREE Chinook Book
Thanks to a generous donation from Swansons Nursery, the first 120 people to visit the Learning Station will receive a free 2017 Chinook Book (print edition)! Please no queue before 10 am.
Parkways Parade!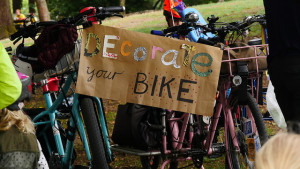 The Parkways Parade at 11:30 am is an opportunity to join others for a short section of the Seattle Summer Parkways route. Seattle ReCreative and Sustainable Ballard will provide the (otherwise landfill) decorating materials, available FREE at the decorating stations within the Family Bike Expo. Kids may also join the parade with a Petite Troll float on loan from Fremont Arts Council. Participants can also join the parade pre-decorated (see volunteer link for work parties).  Join Kidical Mass on this 1.3 mile loop route through old Ballard and back to the park. Parents must stay with their children under 10 years of age during the parade.   Participation is FREE.
Family Bike Expo

The Family Bike Expo is a great chance to try things you haven't seen before, or talk with family biking parents. Join local families who use their bikes as transportation and try out their family biking setups, including a front mounted child seat, a bike trailer, a tandem, a recumbent trailer bike and more. Ask questions and enjoy the delight of riding with your kids! There will also be maps and route information, and information about FamilyBike Seattle. Stop by in the morning to decorate your bike for the Parkways Parade at 11:30 am. Have fun and be inspired by riding!
FREE Pronto Bike Rides
Try out Seattle's new bike sharing program for FREE on the day of the Festival. 17 Pronto Bikes will be available. Start your day at the Sustainable Ballard Festival, check out a Pronto bike for a few hours, then wheel around the Seattle Summer Parkways route, ending up back at the Festival to return your bike.  This is a fantastic opportunity to enjoy the Pronto experience for FREE.
What's That Tool?
The Ballard Tool Library (coming soon) will include not only gardening and shop tools, but tools for boats and crafting. Stop by and see if you can identify some odd and obscure tools and win a prize!
Get a Quick Fix
Also at the Ballard Tool Library booth, bring an item that you can't figure out how to fix and test our local MacGyver. He'll have a selection of tools, devices and fasteners on hand to help you with your quick repairs.
BioChar Stove Building
Look for the Hands-On BioChar Tin Can Camp Stove build at the Ballard Tool Library booth this Saturday.  BioChar Stove Builder will have tools and supplies available for Kelpie's The Dome School Camp Stove build… drop on by and build a up-cycled camping stove. They'll also be displaying the larger seachar.org – Seattle Biochar Working Group backyard gardeners BioChar stove (and BBQ) that we're hoping to place at the tool library once it is open.
Class sign-up sheet will be available (either help build tool library stove or build your own take home stove).
Cider Pressing
Take a few cranks on the cider press and enjoy the sweet resulting cider. We'll have apples, pears and plums on hand to try in the press thanks to Collins Family Orchard and many generous Ballard neighbors.
Tomato Tasting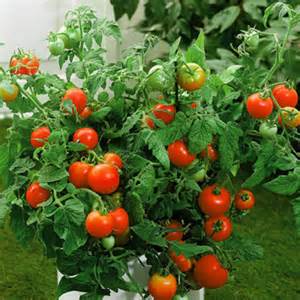 Come to the Eat Local Tent and sample a variety of locally grown tomatoes. Hosted by Abundant Greens Urban Farm and Nursery, located just north of the Ballard Locks and specializing in CSA (Community Supported Agriculture) Weekly Vegetables and Seasonal Vegetable Plant Starts. Sample a selection of Abundant Greens 100+ heirloom tomatoes!  Vote for the best tasting tomato and talk to Abundant Greens owners about vegetable gardening, tomato varieties, seed saving, growing, canning and recipes.  Information about their weekly vegetable CSA, vegetable plant starts, and volunteering will be available.  Examples and descriptions of our many tomatoes will be on display throughout the day.  Tomato tasting begins at 1:00 pm, Tickets are $7.
Bubbleman
Join Bubbleman at 2:00 pm for an entertaining hour of bubble magic and then learn to make your own bubble wand with six-pack rings.
Skate Clinics
Skate Like a Girl creates an inclusive community by promoting confidence, leadership, and social justice through the sport of skateboarding. They will be offering multiple free skateboarding lessons for all ages and all abilities throughout the day, as well as demos in the bowl. Gear will be provided for lesson groups!
Electric Cars
Look under the hood of some of the coolest electric cars around. Members of SEVA (Seattle Electric Vehicles ) are bringing out their personal vehicles to let you have a look and ask questions. Check out a 2017 gen-2 Chevy Volt, a Fiat 500 E and a Mercedes B Class Electric Drive.
Park Your Thoughts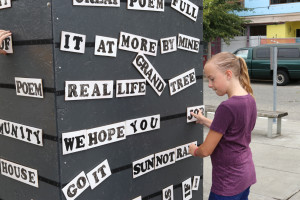 This Interactive art installation with words is a temporary art installation at Ballard Commons Park and changes daily as people interact with the thought box and Park their Thoughts.