So much fun stuff to do at the Festival!  Make a necklace or paper cat, build a bird house, check out family bikes, make a solar-powered light jar and much, much more!  Check it out …
Visit the Kids Zone hosted by Illumination Learning Studio and make a
necklace or decorative hanging using recycled marker tops, bottle caps and fruit squeeze-pack tops; or make newspaper and construction-paper cats.  There will be bubbles and sidewalk chalk on hand as well to engage and entertain your young ones.
Build a Bird House!  We've pre-cut the plastic from no-longer-needed yard signs, and we'll have the hole punches and zipties on hand to pull them together, so all is ready for you to assemble your own bird house!  Visit the Built Green booth during the Festival and build a home for some feathered friends.
Hosted by Familybike Seattle, the Family Bike Expo is a great opportunity to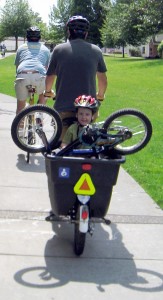 try things you haven't seen before, or talk with family biking parents.  Have fun and be inspired by riding!  Join local families who use their bikes as transportation and try out their family biking setups.  Come ride a bike, or ride all the bikes! All the bikes are either owned by local families, or are in Familybike's demonstration fleet. Their mission is to decrease some of the barriers families face when choosing to bike. While biking isn't the only sustainable option, it sure can be a fun one!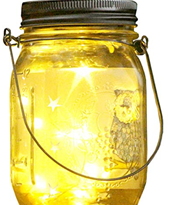 Visit the Columbia Bank booth and make your own solar-powered jar light!  The folks from the Ballard NeighborHub will be on hand with jars and everything you'll need to DIY your own jar light that you can use to bring a little light to a dark space. Put together a basic jar and then decorate with materials provided. While supplies last.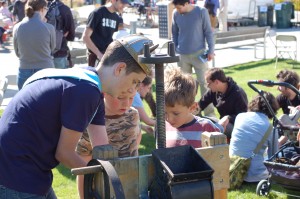 Take a few cranks on the cider press and enjoy the sweet resulting cider.  We'll have the fruit on hand, but if you'd like, bring apples, plums or pears from your own tree.
Electric Cars!  Members of the Seattle Electric Vehicle Association will be on hand with their electric vehicles for you to check out:
~ a 2017 Volt, plug-in-hybrid, 53 miles electric range by EPA rating
~ a 2015 Fiat 500e, 24 kwh battery, 82 miles range EPA rating
~ a 1995 Ford F-250 SuperCab LongBed 4WD, 60 miles range
Ask questions and learn more about what it's like to own and drive an electric car.  Stop on by their display in the northeast corner of the Festival.
Chinook Book Giveaway!  Starting at 11am (not before!), we'll be giving away free Chinook
Books (with the app included!) to the first 200 festival attendees.  Thanks to Ballard Market for sponsoring this great giveaway!  See you in Ballard Commons Park on September 28th!
See you @ the FESTIVAL!