Earth Day Volunteer Opportunities
Are you looking for some way to lend a hand this Earth Day? If so, please check out these opportunities to volunteer in or near Ballard.
Join Pudget SoundKeeper at Golden Gardens for a ETAP Beach Cleanup. This cleanup will take place in two, two-hour shifts between 10am–2pm on Saturday, April 22nd.
We will use the ETAP protocol (Escaped Trash Assessment Protocol) at this event. ETAP is a survey method created by the Environmental Protection Agency to standardize, characterize, and quantify debris. It compares trends in trash that escapes waste management systems and ends up on our beaches and in our waterways. It is a simple, but meticulous, collection of all human-created debris within a defined area, which are then categorized, counted and weighed. Soundkeeper uses ETAP to assist in developing policy and legislative tools to reduce marine debris in Puget Sound.
This is a family-friendly event. Click here to register and join us on April 22nd for ETAP!
If you are under 18 years old and will be attending the event without an adult, please complete this form before the event: Liability Form.
Join our Friends at the PNA Village for Spring Gardening Day Saturday, April 22nd from 8:30am to 12:30pm. Meet up at the Greenwood Senior Center then head out to Senior's home in NW Seattle to help out elder neighbors with beautifying their gardens, pulling weeds, and planting seeds!
Volunteer groups of 5 will go to two different homes. Great for any and all ages. No experience necessary. Tools provided if needed. Get ready to get dirty!
Learn more and sign up :https://www.phinneycenter.org/volunteer/volunteer-gardening/#village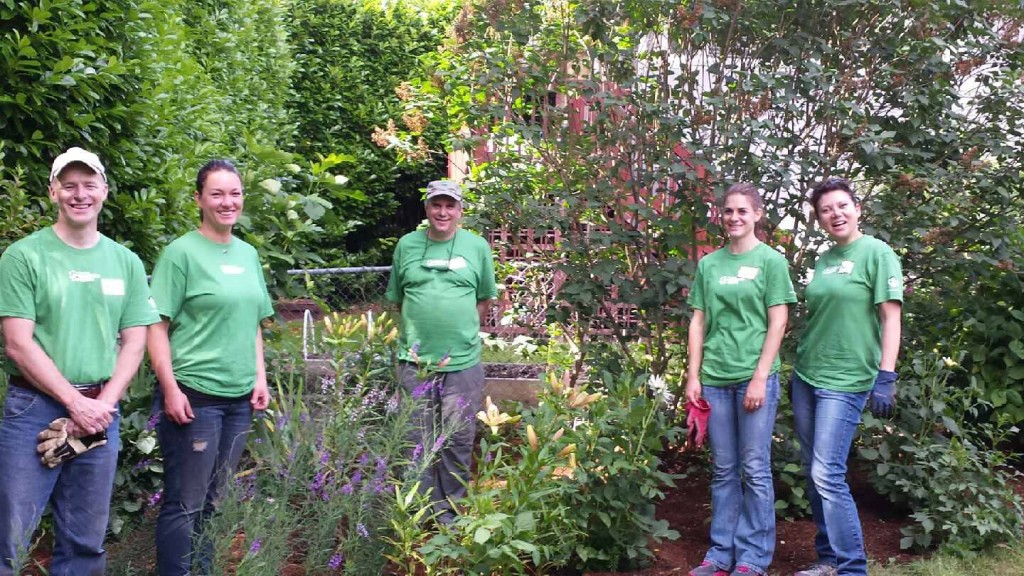 Join Green Seattle at Discovery Park this Earth Day at Spruce Island for blackberry clearing from 9am-12p. They will be attacking a hibernating patch of blackberry, sneaking up on them just as they are waking up. It's amazing how much easier it is to clear blackberries this time of year. Our task will be a combination of cutting back the canes with loppers and digging up the roots to completely wallop them. They won't know what hit 'em! Wood chips will be spread over any bare ground to prevent weed seeds from sprouting.
Bring work gloves, water to stay hydrated and sturdy boots. Dress for the weather with layers. We will have loppers, tillers and shovels to accomplish our task. Meet downhill of the large black cistern 800′ west of the large white radar tower. The cistern is on the west end of the parade grounds. 47.657661, -122.416956 This is a 10 minute walk from the south parking lot (please allow enough time to walk to and from the meeting site). This is a small area of trees at the north end of the south meadow called Spruce Island.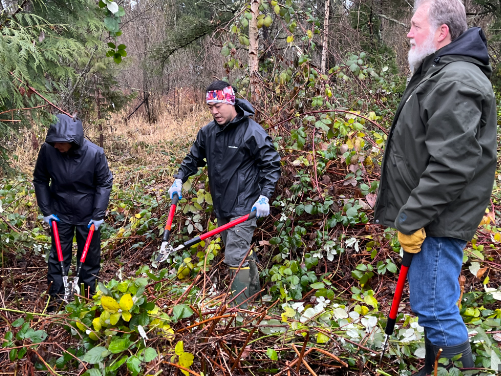 On-going volunteer opportunities include Sustainable Ballard's Idle Free and Market Gleaning Projects. Both are looking for volunteers. Take the Idle Free pledge and help educate your friends and neighbors on the wastefulness of idling. Contact Polly for more information.
Or help out with our Sunday Farmers Market Gleaning team that gathers unsold food from farmers and distributes it to our friends at Ballard Food Bank. To learn more about this project or get involved, contact Olivia