Community Gardening Conference Aug 8-11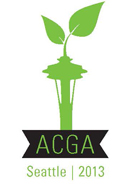 Interested in community gardening? The 34th Annual American Community Gardening Association (ACGA) Conference is coming to Seattle, August 8 – 11.  Workshops and tours are open to the public.
Workshops offer a wealth of information on community gardening and urban agriculture.  On the tours, participants can visit innovative sites, learn about community orchards, even study garden design and art while meeting people from around the world who are involved in community gardening. Most tours occur on Saturday, August 10 from 12:30 – 5:30 p.m. All tours cost $40 and include lunch and transportation. To view the tour descriptions and to register, visit the ACGA website.
Conference workshops and functions are open a la carte with more than 50 topics
to choose from. Conference sessions are as follows:
~ Thursday—PreConference and Dinner – 8 a.m. to 9 p.m for $55
~ Friday – Keynote speaker, lunch, and workshops from 8 a.m. – 5 p.m. for $75
~ Friday night – Gala Dinner and Silent Auction for $85
~ Saturday – Workshops from 8 a.m. to 12 noon for $40
~ Saturday and Sunday – Workshops, tours, and closing panel from 8 a.m. – 12 noon for $80
Or consider registering for the whole conference:
~ Whole Conference and PreConference (Thursday PreConference, Five Sessions of Workshops, Tours and more– $350
~ Whole Conference – Everything except the Thursday Preconference — $300.
~ Lodging also available at the Conference Website.
Workshops are conducted by experts in urban agriculture, community gardening, and in the topic itself. Topic sessions include:
~ Horticulture, permaculture, and city livestock
~ Garden/farm to table to compost to garden/farm
~ Health, prevention and therapy
~ Cultural, social, and environmental justice
~ Policy implementation and management
To learn more about each day's activities, visit the schedule here. Registration for the a la carte sessions is available here.
The ACGA Annual Conference will be held at the University of Washington's Gould Hall. For more information, contact Rich Macdonald at Rich.Macdonald@seattle.gov