The Taste of Ballard is a family dining area where festival-goers can enjoy food from our resident food carts or step into the world of "Alice in Wonderland" in our very own Tea Garden.  To enhance your experience of the Tea Garden, our Upcycle Station is located in the area, where you can make your very own "Mad Hat," decorative flower, percussion shaker, or windchimes. The Taste of Ballard is located by the MainStage where we'll be sampling live music from Ballard regulars.
Tea Garden:
Sponsored by Miro Tea, festival-goers will be treated to these featured tea samples ~
Harmutty Assam – Full of golden tips, this classic Assam

is both rich and floral. Produces a malty and sweeter cup of tea, which stands well with or without milk.

Hojicha – Hojicha is made from the roasted twigs of the tea plant. It is almost entirely caffeine free and makes an excellent toasty, robust cup of tea any time of the day.
Detox – Lemongrass, schizandra berries, rosehips, and lemon oil combined to create a citrusy, detoxifying blend with notes of berries and flowers.
Paired with delicious dessert bites provided by these Ballard shops ~
Food Trucks:
Streetzeria
Kale Caesar salad — croutons, Caesar dressing, lemon
Pizza Slices made with fresh, local ingredients
Gluten free crusts available
Biscuit Box
Warm Biscuit & Sweet Cream Butter
Ham & Cheese Biscuit
Tarragon Chicken "Pot Pie" Biscuit
Foraged Mushroom & Black Pepper "Gravy" Biscuit
Bao Biscuit
Biscuit Bread Pudding
Beez Neez
Spicy Alaskan Reindeer Sausage
Regular Alaskan Reindeer Sausage
German Bratwurst Louisiana Hot Link
All Beef Dog Polish Dog Veggie Dog
Add ons: Cream Cheese, Bacon
Plum Burgers
100% Vegan Burgers
Sandwiches
Wraps & More!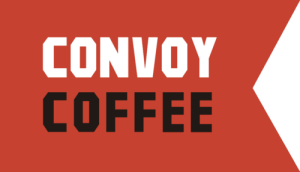 Convoy Coffee
Pourovers and Aeropresses — 8 and 12 oz cups of brewed single origin coffee.