Be Part of Our 12th Annual Festival!
September 19, 2015 from 11:00AM – 5:00PM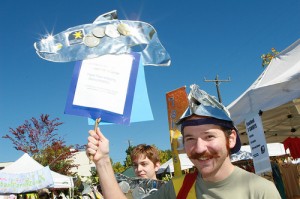 It feels great to volunteer!



The Festival is our big event of the year! Part community builder, part educational, part fundraiser, part party!! There are many ways you can help out and be part of this exciting event. It's a great way to meet your neighbors and other Sustainable Ballard members!  Shifts are typically 2.5 hours.
Here is a preview of some of this year's volunteer opportunities:
WORK PARTIES  (various dates Aug 20-Sept 10)

Everything from assembling trash fashion to prepping kids activity packets, painting banners, varnishing the stage, silk-screening t-shirts and more!
SET UP EVERYTHING THE DAY BEFORE (Saturday):
There's tons to do to put it all together!  Put that stage together, lay down electrical cords throughout the park, set up tents and tables, hang decorations, and more! Help out either 3PM-6PM, or 6PM-9PM.  (pizza!….)
SOME of the VOLUNTEER OPPORTUNITIES AT THE FESTIVAL
(Sunday, Sept 19):
• More set up just before we "open the doors" – 8AM – 11AM Sunday
• Be a GREETER!  Welcome festival-goers with a festival guide, answer questions, count attendees, enforce traffic barricades.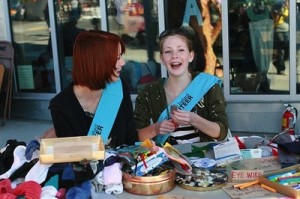 • Engage kids in making art from recycled materials, decorating bikes, and a variety of other arts and crafts at the Kid Zone. 

• Info Booth and Volunteer Check In: Help check in and orient volunteers as they come in for their shift, answer visitors' questions, hand out materials, sell raffle tickets.
• Merchandise –  Help sell our popular festival t-shirts!  Staff merchandise table, take money, make change.  (Remember volunteers get their t-shirt free!)
• Help solicit donations for Sustainable Ballard to support our offerings to the community and the next year's festival!  If you enjoy talking to people and are not scared of asking the to support a worthy organization, this might be for you!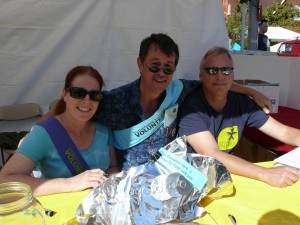 • Green Team  – learn what goes where and be ruthless about making sure festival discards are sorted properly.
• Festival Closing – help take down, clean and pack up tents, tables, equipment, decorations,etc. Put things away neatly for next year.
AFTER THE FESTIVAL…
Join us for the After Party Volunteer Appreciation event!
Volunteers at work: