Be Part of Our 13th Annual Festival!
August 27, 2016 from 11:00AM – 4:00PM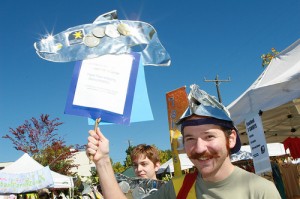 It feels great to volunteer!



The Festival is our big event of the year! Part community builder, part educational, part fundraiser, part party!! There are many ways you can help out and be part of this exciting event. It's a great way to meet your neighbors and other Sustainable Ballard members!  Shifts are typically 2.5 hours.  Read descriptions here and then click the link to sign up!
VOLUNTEERS GET GREAT BENEFITS:
• festival t-shirt
• snacks and gift bag
• volunteer hospitality – a quiet place to relax and socialize
• exclusive invitation to volunteer appreciation party
CLICK HERE TO VOLUNTEER AT THIS YEAR'S FESTIVAL
Not sure what to do?  Email volunteer@sustainableballard.org or call 206.947.6635.
Here are this year's volunteer opportunities:
BEFORE THE FESTIVAL

:
WORK PARTIES  (various dates July 15-Aug 25)

Collect recycled materials, assemble decorations for the festival, prep materials for upcycling activities, silk-screen t-shirts, paint banners and signs, prep the stage, and more!
HELP WITH SET UP (Friday):
There's tons to do to put it all together!  Put that stage together, sort gear for fast distribution on fest day, lay down electrical cords throughout the park, set up tents, hang decorations, and more! Help out either 1PM-3:30PM or 3:30PM-6PM.
HELP WITH SET UP (Saturday):
It's all hands on deck the morning of the festival.  Everything that can't be left out overnight has to be set up – and quickly!  Tea Garden, Merchandise, PAs, Activity Booths, tables & chairs, Exhibitor Support, and more. 8:30AM-11AM
CLICK HERE

TO VOLUNTEER AT THIS YEAR'S FESTIVAL
AT THE FESTIVAL

(Saturday, Aug 27):
Entry
GREETER!: Welcome festival-goers with a festival guide, answer questions, count attendees, enforce traffic barricades.
Info Booth and Merchandise: Help sell our popular festival t-shirts!  Staff merchandise table, take money, make change.  (Remember volunteers get their t-shirt free!), answer visitors' questions, hand out materials, sell raffle tickets.
Volunteer Check In: Help check in and orient volunteers as they come in for their shift.
Tea Garden
Cashier: Sell tickets and take money (references needed).
Server: Serve sample teas and desserts.
Floater: Keep tea garden area neat and assist with serving as needed.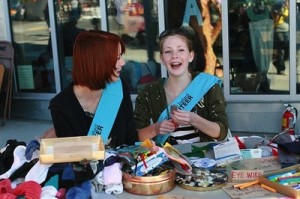 Booths
Volunteer Hospitality Tent:  The Hospitality Tent is where we nurture our fabulous volunteers during the festival!  Set up and keep treats and refreshments neat and available, and hand out treat bags with goodies.
Upcycle Station: Show visitors demos, help them hand-make bottlecap shakers and art flowers from supplies provided.
Solar Fair: Run solar-powered rubber ducky and slot car races. Show off three different styles of solar cookers.
Urban Farm Area: Help out with the cider press, farm games and farm animals.
More to come!
Stages
Mainstage Support: Support MC and performers as needed.
Demo Stage Manager: Oversea demo stage area.  Keep neat, support presenters and trouble shoot as needed.
All Important
Green Team: Educate festival goers about what goes where (recycling, compost or trash) to make sure festival discards are sorted properly.   You'll be stationed in one of 3-4 disposal stations in the park.

Roving
Donations: Walk around the festival and sell Sustainable Ballard memberships (free gifts!) and sell raffle and tea garden tickets to support the festival!  If you enjoy talking to people this is you!
Photo/Video Team: Shoot photos and videos to capture the fun, color and spirit of the day for our FB page and website.
Exhibitor Support: Check on exhibitors and help with any questions/needs they may have (you don't need to know the answers to all of them!)
CLICK HERE

TO VOLUNTEER AT THIS YEAR'S FESTIVAL
AFTER THE FESTIVAL

:
HELP WITH BREAK DOWN (Saturday):
Break Down: Help take down, clean and pack up tents, tables, equipment, decorations,etc. Put things away neatly for next year.
HELP WITH CLEAN UP (Sunday):

Green Team Sorting Party: Pull on some gloves and help sort out compost, recycling and landfill that may have missed the mark on fest day. Short shift, plus be rewarded with Pizza and Beer! (Gloves, pizza and beer provided.)
Storage Team: Help sort and deliver all festival supplies back to our storage unit. Short shift. You'll probably get pizza and beer too!

WHEN THE WORK IS DONE…
Join us for the Volunteer Appreciation event!

CLICK HERE

TO VOLUNTEER AT THIS YEAR'S FESTIVAL
Volunteers at work: