So much fun stuff to do at the Festival!  Experience some bubble magic, look into a marine wildlife ambulance, build a bird house, make your own paper, learn how to make solar-powered kinetic art and much, much more!  Check it out …
Eat Local + Save Our Orcas – This summer our ailing resident orcas have been on everyone's minds – so come learn about five ways you can help them.  We'll start with NOT eating our orcas' only food source – chinook / king salmon – then make a colorful postcard to send to Ballard restaurants, asking them to remove chinook / king salmon from their menus. We have recipes for easy, chemical-free cleaners – mix up a batch of dishwasher soap, and take some home! And as always, this is your spot to learn about growing fruit and vegetables, eating local, raising chickens, encouraging pollinators, and more.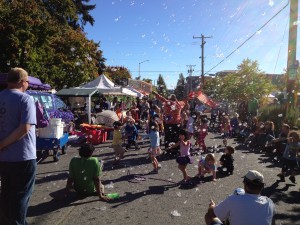 Join Bubbleman at 1pm for an entertaining hour of bubble magic and then learn to make your own bubble wand with six-pack rings.
The ambulance, owned by Sealife Response, Rehabilitation and Research (SR3), is equipped to provide life saving transport for marine animals and will be at the 15th Annual Sustainable Ballard Festival for you to see. Learn about how the medical crew is able to provide stabilizing care in the field and how this specialized unit currently serves as a mobile hospital.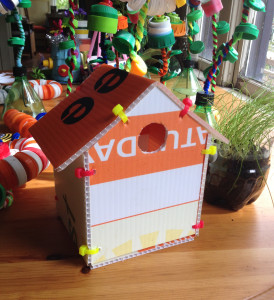 Build a Bird House!  We've pre-cut the plastic from no-longer-needed yard signs, and we'll have the hole punches and zipties on hand to pull them together, so all is ready for you to assemble your own bird house!  Visit the Built Green booth during the Festival and build a home for some feathered friends.
Make your own paper!  Visit the Artist & Craftsman Supply booth, where you can learn the process of making paper 
with recycled materials.  See a demonstration of how to break down recycled materials into a pulp, then strain, dry, and press the mixture, yielding a workable paper surface.  You'll learn how to make beautiful sheets of paper that can be used for drawing, calligraphy, painting and more!  It's fun, easy, and a great way to reuse any paper materials you have around the house.
Be sure to stop by the Solar Trailer brought to the fun by KBFG LP Radio — our own neighborhood radio station!  Learn a little bit about how solar works, check out the solar panels and small motors, splash in the kiddie pool and take part in a solar-powered boat race.  Kids — come learn how to make solar-powered kinetic art!
Take a few cranks on the cider press and enjoy the sweet resulting cider.  We'll have the fruit on hand, thanks to Imperfect Produce.  If you'd like, bring apples, plums or pears from your own tree.
The Festival Tea Garden features coffee, herbal & black teas, and hot cocoa donated by Equal Exchange Espresso,  and desserts from great Ballard businesses. 
For just a $5 donation, participants will choose tea, coffee or hot cocoa along with two dessert samples. Your donation supports Sustainable Ballard programs. The Tea Garden features whimsical garden art with tables and chairs nearby to rest from the festival.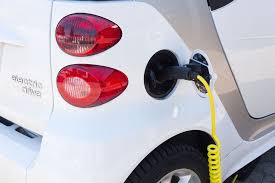 Electric Cars!  Members of the Seattle Electric Vehicle Association will be on hand with their electric vehicles for you to check out:  a 2013 Fiat 500e (driven and signed by Clint Eastwood!) and a 2008 Tesla Roadster named "Ruby".  Ask questions and learn more about what it's like to own and drive an electric car.  Stop on by their display in the northeast corner of the Festival.
Chinook Book Giveaway!  Starting at 11am (not before!), we'll be giving away free Chinook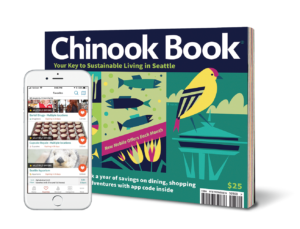 Books (with the app included!) to the first 200 festival attendees.  Thanks to Ballard Market  for sponsoring this great giveaway!  See you in Ballard Commons Park on September 22nd!
See you @ the FESTIVAL!