#sbfestival – Family Bike Expo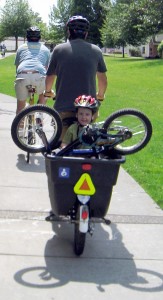 Hosted by Familybike Seattle, the Family Bike Expo is a great opportunity to try things you haven't seen before, or talk with family biking parents. Have fun and be inspired by riding! Join local families who use their bikes as transportation and try out their family biking setups.
Come ride a bike, or ride all the bikes! All the bikes are either owned by local families, or are in Familybike's demonstration fleet. Their mission is to decrease some of the barriers families face when choosing to bike. While biking isn't the only sustainable option, it sure can be a fun one!
Ask questions and enjoy the delight of riding with your kids! There will also be maps and route information, and information about the rest of FamilyBike Seattle's programs (cargo bike test-rides, family biking seminars, Kidical Masses, and Community building events).
See you @ the FESTIVAL! — Saturday, September 28, 11am-4pm @ Ballard Commons Park