Our 14th Annual Sustainable Ballard Festival
The 2017 Festival is now behind us.  We are immensely grateful to all of our sponsors, exhibitors, donors, volunteers and attendees!  See you in 2018!
September 9, 2017
11am-4pm
Ballard Commons Park
Eclectic, artsy, earthy, urban and committed to a better future… you'll find all this and more at the 14th Annual Sustainable Ballard Festival.  You'll encounter creativity, passion and community while learning about daily practices and big steps toward more sustainable living. 


We invite all of our Ballard neighbors and friends to become more connected with each other by participating in Sustainable Ballard activities. When we engage, we become part of creating the thriving community and lifestyle we want and need.  This year's theme is "Certified Local" featuring a broad variety of ways that you can demonstrate your commitment to local, sustainable actions.
Look for these special attractions at the festival (click for details):
A word from our Sponsors:
Volunteers still needed for the Festival!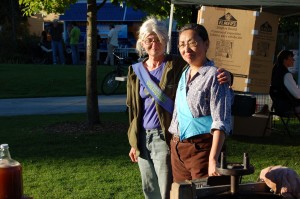 Put the date on your calendar and plan to be part of this great community event.  Let us know you're interested at volunteer@sustainableballard.org and we'll get back to you soon with all the great opportunities we'll have for you!
Special Features:
Make a Birdhouse with Built Green
We've pre-cut old Green Home Tour directional signs, and we'll have hole punches and zip ties on hand to pull them together, so all is ready for you to assemble your own bird house! Visit the Built Green booth during the Festival and build a home for some feathered friends.
Make Bottlecap Crafts and More!
Stop by the Creativity Corner to try one of many possibilities for creating bottlecap art! Make a flower, a bug, a sailboat, a percussion instrument and more! We'll have colorful plastic and metal bottlecaps available for your use. Also at creativity corner: Make a salmon hat, a jigsaw puzzle, an origami box, an animal mask or just have fun putting together your own creation with all of our fabulous previously used materials.
FREE Chinook Book
Starting at 11 am,* the first 200 attendees to the Chinook Book table will receive a free 2018 Chinook Book (print edition) compliments of Ballard Market. Chinook Books contain fantastic coupons for businesses that meet the criteria, and great resources for sustainable living including:  farmers markets, recycling, local biking & transit, clean energy and green home. *Please, no queue until after 10am.
Family Bike Expo
The Family Bike Expo is a great chance to try things you haven't seen before, or talk with family biking parents. Join local families who use their bikes as transportation and try out their family biking setups, including a front mounted child seat, a bike trailer, a tandem, a recumbent trailer bike and more. Ask questions and enjoy the delight of riding with your kids! There will also be maps and route information, and information about FamilyBike Seattle. Have fun and be inspired by riding!
Repair Café
Get a Quick Fix. Stop by the Ballard Public Library, Bring an item that you can't figure out how to fix to the main meeting room at the Ballard Public Library (across from the festival) and test our local MacGyver. He'll have a selection of tools, devices and fasteners on hand to help you with your quick repairs.
Cider Pressing
Always a popular attraction, we offer a chance to learn how to make cider on an old fashioned human powered cider press. A few cranks on the side wheel and freshly chopped fruit is loaded into the hopper. Once the bin is full, a heavy disc is placed on top and the fruit is pressed until the juice flows. Get a chance to taste the sweet resulting cider at the end of the process. Bring apples and plums from your tree or help press some donated by your generous Ballard neighbors.
Bubbleman
Join Bubbleman at 1:00 pm for an entertaining hour of bubble magic and then learn to make your own bubble wand with six-pack rings.
Electric Cars
Look under the hood of some of the coolest electric cars around. Members of SEVA (Seattle Electric Vehicles ) are bringing out their personal vehicles to let you have a look and ask questions. Check out a 2017 gen-2 Chevy Volt, among others.
Spin Bike Rides
Try out Spin, Seattle's new bike sharing program, for FREE on the day of the festival! In the app, type in the promo code SUSTAINABILITY to get 2 free rides! And feel free to stop by the Spin booth to grab some swag and extra free rides. This is a fantastic opportunity to enjoy the Spin experience for FREE.
Get some Solar Flair
Our Solar Flair booth features solar race cars, solar powered rubber duckies, examples and directions for solar ovens and solar crafts. Get your Solar Flair on!
Eat Local Now
Learn about many aspects of local eating. Check out our "150 Mile Diet" map to see every farm in Western Washington, play the Fruit & Vegetable Toss game, see the water footprint for some familiar foods, pick up a 2017 Puget Sound Fresh Farm Guide, and much, much more.
Photo Ops
We'll have carnival-style face-in-the-hole boards positioned around the festival.
Tea Garden
The Taste of Ballard Tea Garden features teas from New Seasons Market and desserts from great Ballard businesses. For just a $5 donation, participants will choose one tea flavor along with two dessert samples. Your donation supports Sustainable Ballard programs. The Tea Garden features whimsical garden art and a music and demonstration stage. The tea garden is located just next to the food trucks and dining area. Want to work off some of those calories?  Hop on a bicycle and help power the stage!
Living Lightly Lounge
Introducing the Living Lightly Lounge – a great place to chill right in the heart of the festival. Speaking of heart, Soaring Heart Natural Mattress Company will be providing the furniture in this casual space and you can enjoy local string musicians while you relax. In the middle of the day we will host an hour of educational demos as a mental refresher.
Wifi Café on the Bus
Hop on the Metro bus and enjoy fresh local coffee from Anchored Ship and a variety of informational workshops and live music. The bus stage will be powered by the Northwest Solar Rover.
Membership
Announcing a brand new supporting members program! We need your help to continue to serve our growing neighborhood. To keep pace, our organization has unveiled a new non-profit status, and with it comes an opportunity for friends like you to energize us with tax-exempt donations. And you'll be happy to hear that a Sustainable Ballard supporting membership comes with excellent benefits including a t-shirt and yardsign, and membership to the new Ballard Tool Library! The first 50 new members receive a copy of The Sustainable World Guide.
Human Hamster Wheel
Watch a demo and then take a turn making your way across the grass in the human-sized hamster wheel (more formally known as a Rhom Wheel), or get more acrobatic and hang or roll around the wheel. Spotter provided. You must sign waiver. Demos will happen periodically throughout the day. The human hamster wheel is presented by Fremont Arts Council and was featured in this year's Fremont Parade.
Raffle

Oh my, do we have some cool raffle items! Thanks to so many generous Ballard businesses, you will have lots of chances to win. Raffle tickets are $5 each, or five tickets for $20, and the drawings will be held at 3:30pm. You do not have to be present to win. This year's grand prize is a Little Free Library (value $350)!
Festival Passport
Kids 4-12, pick up your festival passport when you arrive and visit all the stops along the way. It's a great guide to some of the really fun stuff you'll find happening at the festival. At the end of the day, show your completed passport at the info booth and win a prize!
Northwest Solar Rover
Northwest Solar Rover is literally a solar powerhouse on wheels, and you will have the opportunity to check it out at the Festival. We'll be using the Solar Rover to provide power for one of our stages and you can use it to recharge your cell phone! Sponsored by Verity Credit Union, Northwest Solar Rover is just one way we are able to power the Festival with clean, renewable energy.