GLEANING FARMER'S MARKET PRODUCE FOR THE FOOD BANK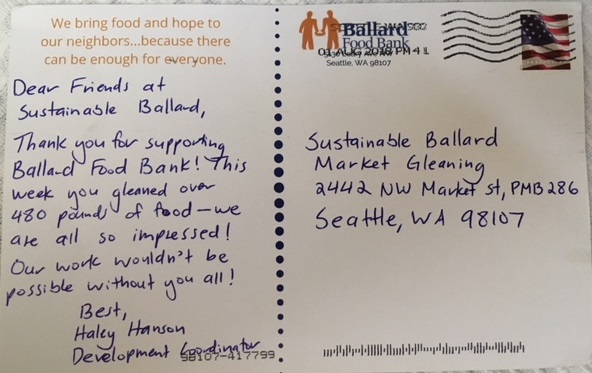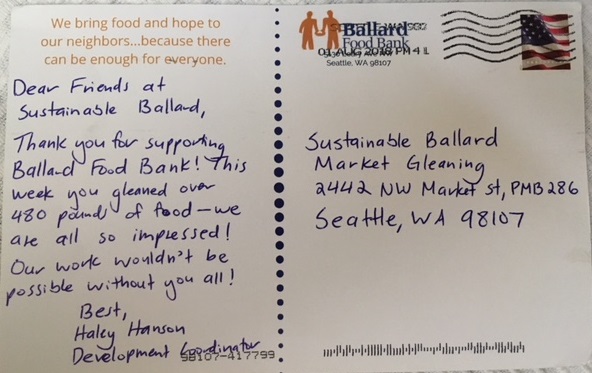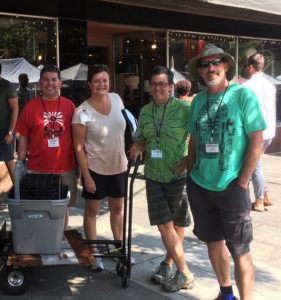 In 2015, the Market Gleaning Team collected 13,918 pounds of food donated by farmers at the Sunday Ballard Farmers Market, and transported the food to the Ballard Food Bank.
Ballard Farmers Market – Sundays
If you are interested in helping with the gleaning project on Sundays, 2:45pm – 5:00pm, contact Katie.
Project Contact:  Katie Shinn
2015 = 13,918 pounds
2014 = 17,749.5 pounds
2013 = 6,111 pounds
Thanks to the generosity of the farmers and the time and energy of the Gleaning Team, all this food was diverted from the compost pile and into the shopping baskets of the Food Bank. Many thanks to our team of volunteers and high school student helpers!
Farm donors in 2015 include:
Acma
Alvarez
Children's Garden
Collins Family Orchard
Kirsop Farm
Growing WA
Magana
Martins Orchard
Nash
Snohomish Bakery
Tall Grass Bakery