Ballard Homes-For-All Coalition
From Sustainable Ballard
January 2012 - Ballard Homes For All Coalition has joined forces with the
Ballard Community Taskforce on Homelessness and Hunger
(Click on the link above to find out about current activities, breaking news,
and how you can help your homeless neighbors.)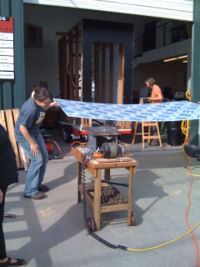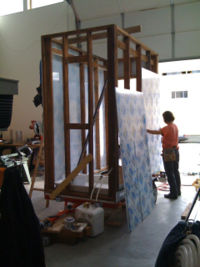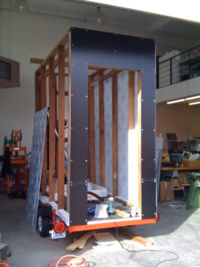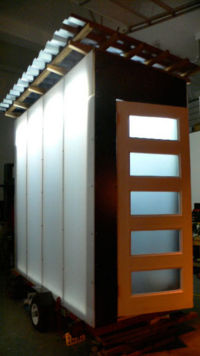 Congregation–Hosted Safe Parking for People Living In Vehicles
Why is it needed?
Even before the current economic crisis, the rise in people living in vehicles has been apparent. In the 2011 One Night Count in late January, 506 people in the City of Seattle were counted living in vehicles. That's roughly one-third of all those counted that night, and that percentage has held steady for the last few yearly Counts. The non-profit organization Heroes for the Homeless, whose volunteer members make monthly visits to people living on the streets to distribute food and other necessary items, have noted a sharp rise in the number of vehicular residents in the last several years. The Ballard Food Bank has also attested that increasing numbers of those needing help are vehicular residents.
The recent financial downturn has exacerbated the situation, forcing formerly housed Seattleites, including families with children, out of their homes and into their vehicles. Financial difficulties experienced by all levels of government have prevented the provision of more shelter, and low-income housing and service providers have also been hit by the lack of funding options. The end result: more need, less help.

Why Ballard? Because Ballard features many industrial areas with street parking available during the evening hours, it is one of the main locales in Seattle inhabited by people who would be completely homeless without their vehicle "homes". But vehicular residents are vulnerable to ticketing and towing and, since July 5, 2011, having their vehicles booted so that they could not be moved. People living in vehicles need to be able to go to work or look for work or go to medical appointments and know that their home will still be there when they get back--just as we who are housed know that our homes will be there. They also need to feel that their efforts to keep themselves afloat during this difficult time are respected by their neighbors.

Ballard Homes For All Coallition (BHFAC) collaborates with Sustainable Ballard because we share in the belief that being a sustainable community means reaching out and caring for each other, homeless and housed alike. It is our hope that with a stable living situation and community support, Ballard residents who are not housed can find the help they need to obtain long term housing, hold down jobs, and have access to services such as healthcare.

How our coalition came together. In 2007, State Representative Mary Lou Dickerson, noting the growing number of Ballard residents who had no other option but their vehicles to stave off complete homelessness, decided that something had to be done to help those Ballard neighbors. To address the need on a community-wide basis, Rep. Dickerson helped form the Ballard Homes for all Coalition (BHFAC). Monthly meetings involved all sectors of the Ballard community. We developed our mission and goals and -- importantly -- what we could realistically do to help.

What BHFAC offers. BHFAC seeks to identify host organizations--primarily religious congregations--who can help their neighbors by allowing vehicles to be parked in their parking lots, safe from tickets, towing, and harassment. Through the efforts of Rep. Dickerson, BHFAC was awarded a one-year pilot project grant of $10,000 from the Washington State Legislature, designed to help safe parking hosts defray whatever costs they may incur in offering vehicle residents a safe place to park their homes. Specific ways BHFAC can assist host organizations include the following:
Guidelines for safe parking which have been used in similar situations
Sample agreements between host congregations and parkers
Resource information to provide parkers, including how to apply for benefits and housing
Financial assistance in covering an additional insurance premium, if necessary
Funds to rent an on-site portable toilet, if indoor or nearby facilities are not accessible.

Community Support for BHFAC.
In 2008, through the support of Seattle City Councilmember Nick Licata, BHFAC made a presentation to the Council emphasizing the need for City involvement in addressing the needs of people living in vehicles. Since that time, BHFAC has garnered support from Seattle's Mayor's Office, the Human Services Department, and local homelessness advocacy organizations. Most recently, Seattle City Councilmember Mike O'Brien has chaired community meetings in Ballard and secured involvement of City departments in assisting a Ballard congregation during its consideration of becoming a safe parking host, including the possibility that the City will provide assistance in assessing prospective parkers. We are hopeful that a pilot host site will represent a real partnership between a private organization and public resources, and lead to more such efforts in the future.
Letters of Support:
Letter of support from Mayor McGinn to Councilmember Licata
New Developments In Our Ballard Community
Booting of cars. On July 5, 2011, the City of Seattle began carrying out a program of attaching boots to the rear wheels of cars which had accumulated at least 4 parking tickets. A boot immobilizes the car until the car owner pays a varying amount of money to remove the boot. That charge is in addition to whatever ticket charges the owner has already accumulated. Many people who live in their vehicles cannot afford to pay to remove the boot, and in fact were unable to pay for the tickets accumulated, hence the boot. Since the City of Seattle does not have an express policy to exempt vehicular residents from those charges, BHFAC in conjunction with the Interfaith Task Force on Homelessness began a private fund to help people avoid having their cars booted by paying whatever charges were necessary. City Councilmember Mike O'Brien's office provided a great deal of assistance in arranging to identify those in danger, and the Seattle Municipal Court has been extremely generous with their time and expertise in helping to effect the "rescue" of those who live in their vehicles. BHFAC is very grateful for that assistance, as are those who have been helped.

A new task force is born. In the summer of 2011, a group of individuals concerned with the overall issue of increased homelessness in Ballard came together in a preliminary conversation to discuss further efforts to help vehicular residents and all those who are in need. The group includes members from religious congregations, advocacy organization, service providers, advocacy organizations, and Ballard residents. After that conversation, Rep. Mary Lou Dickerson agreed to help organize a task force involving not only Ballard but also the Lower Queen Anne and Magnolia neighborhoods. The aims of this new multi-neighborhood task force include the following:
Encourage local residents and community organizations to work with people who do not have safe places to live, healthy food to eat and/or a stable income.
Support and partner with non-profit, religious, government, for-profit and community groups who provide programs and resources for vulnerable residents in our community.
Mobilize resources within and outside our local community to support quality of life for all residents of Ballard, Lower Queen Anne and Magnolia.
Provide a venue for honest, open discussion of the challenges faced by homeless residents and the groups that serve them, including ways to meet those challenges successfully.
Find effective ways to match groups with specialized services and people with specific talents to organizations and residents seeking solutions to unique challenges.

BHFAC is greatly encouraged by this increased focus on a total community effort to address homelessness, and will actively participate in the new task force. We'll continue working with a Ballard congregation in its review process toward hosting a safe parking camp on its property.

What's happening with safe parking in other areas:
Ballard and the rest of Seattle are not alone in experiencing more residents living in cars, and programs to alleviate their problems in finding safe places to park are spreading across the nation.
Bremerton, Washington: In this Kitsap County city, the Bremerton Safe Park Program provides parking spaces on municipal property, case management by Kitsap County Resources, and access to hygiene facilities for families with children under 18.
Santa Barbara, California: New Beginnings operates a car parking program which accommodates parked vehicles in a dozen different lots, typically churches and private businesses. Car parkers must wait until 7 PM to enter the lots and are required to leave by 7 AM, and limited restroom facilities are available.
Eugene, Oregon: St. Vincent de Paul operates the Overnight Parking Program providing parking spaces, free garbage disposal, and portable restrooms. The program helped 81 individuals and 27 families with children under 18 in 2009. Eugene has realized significant savings in policing costs since instituting this program ten years ago.
Los Angeles: Taking its cue from Eugene, the City plans to invest $750,000 in a program to provide parking and services. The Los Angeles Homeless Services Authority administers the program.
Venice, California: Civic leaders are working with the Los Angeles Homeless Services Authority to craft a program to establish a safe parking program with elements similar to those of Eugene and Santa Barbara.
Kauai, Hawaii: The Kauai Community Alliance plans to offer safe parking services through a grant from a private foundation, with three separate parking lots admitting no more than five cars each. The program, offering case management services by Catholic Charities Hawaii, will begin this fall.


The multiplication in safe parking programs reflects the fact that homelessness is increasing across the nation. While permanent housing is the ideal solution to homelessness, it's an ideal that won't be reached until our economic situation has greatly improved. Until then, all options for shelter must be considered. A safe parking program is an increasingly important option.


For general information, please contact:
Jean Darsie, nwcitizen@comcast.net
Advisors
Orna Locker orna@sustainableballard.org
Bill Kirlin-Hackett, Director Interfaith Taskforce on Homelessness kirhac@comcast.net


BACKGROUND INFO:

2011 One Night Count of Homeless people sleeping outside
The Role of Shelter in Addressing Homelessness

Articles:


Federal legislation: The Religious Land Use and Institutionalized Persons Act of 2000 (RLUIPA) protects individuals and religious institutions, including churches, mosques, and synagogues, in their use of land and buildings for religious purposes. Congress passed the Act, in part, in response to widespread discrimination against religious institutions by governmental authorities which seek to restrict the activities of those institutions to help community residents in need on their private property. For a further explanation of RLUIPA, see http://www.justice.gov/crt/about/spl/documents/rluipa.php.
---
To sign up for updates, visit the Yahoo! group:
---