Sustainable Ballard is powered by 100% clean volunteer energy!  No matter your skill set, we have ways for you to get involved in our ongoing activities and special events. Your passion for contributing to the community is what matters most!   Fill out our volunteer application to get started:
Powered by

EMF
Free Form Builder
Hot Volunteer Opportunities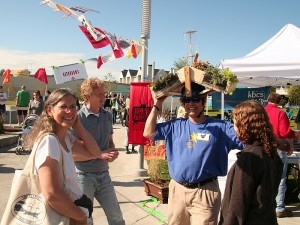 SB is seeking a Volunteer Coordinator!  Got some volunteer coordination skills and experience and some time to give?  Manage our most precious resource! 🙂  Our awesome volunteers (that's all of us!) can use a Coordinator to welcome, orient, connect, keep track of, keep in touch with and appreciate them.   Someone highly organized, outgoing, tech friendly with good communications skills would be great for this central role in the organization.  Interested or want more info? Please note this in your volunteer application above.
Join the Market Gleaning Team!  Market Gleaners collect food donated by Ballard Farmers Market farmers and transport it to the Ballard Food Bank.  We're hoping to build up our volunteer list so that no one needs to work more than one Sunday per month.  For more information, contact Katie.
Join our Projects and Events Group (aka PEG)!  We're seeking a few folks who enjoy working with others, putting your skills to good use creating and supporting cool events and projects for the community.  For more information, contact Andrea.
Join the Meaningful Movies: Sustainable Ballard Team!  We are looking for team members to help select the documentary movies we screen, plus a team member to be the liaison with the Meaningful Movies parent organization, plus someone to be our Leader.  The team meets every month on Mondays.  For more details contact Margaret.
~~~~~~~~~~~~~~~~~~~~~~~~~~~~~~~~~~~~~~~~~~~~~~~~~~~~~~~~~~~~~~~~~~
THANK YOU to all our awesome volunteers!  Sustainable Ballard is sustainable because of YOU!