Sustainable Ballard is powered by 100% clean volunteer energy!  No matter your skill set, we've got ways for you to get involved in our ongoing activities and special events. Your passion for contributing to the community is what matters most!   There are three ways to get started:
1.

 Check out the Hot Opportunities below.  These are the latest and most immediate needs.  See something interesting?  Contact info for each opportunity is provided.
2.

 Visit our Activity pages to find something that piques your interest.
3.

  Join our volunteer mailing list to receive future volunteer opportunities alerts.   Sign up to volunteer today!
Be sure to check the "I am interested" button.
Hot Volunteer Opportunities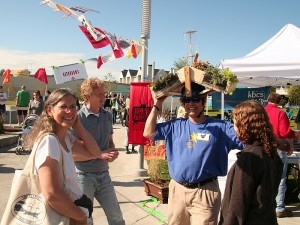 SB is seeking a Volunteer Coordinator!  Got some volunteer coordination skills and experience and some time to give?  Manage our human resources!

 Our awesome volunteers (that's all of us!) can use a Coordinator to welcome, orient, connect, keep track of, keep in touch with and appreciate them.   Someone highly organized, outgoing, tech friendly with good communications skills would be great for this central role in the organization.   Interested or want more info?  Contact Jenny.
Be part of the 11th Sustainable Ballard Festival, our biggest event of the year!  (details coming soon)
Help Start the Ballard Tool Library:  We'd love to see a Tool Library in Ballard.  Sustainable West Seattle has been operating a successful tool library and has offered to share their knowledge, experience and best practices!   We won't need to reinvent this wheel! If you've got some time and energy right now, join the team to get this project started! Contact Ken today.
Join the Farmers Market Gleaning Team:   Help reduce waste and feed the needy at the same time by collecting donated leftover produce from the Ballard Farmers Market and delivering to the Ballard Food Bank three blocks away.  Once a month rotation.  For more info contact Paula.
~~~~~~~~~~~~~~~~~~~~~~~~~~~~~~~~~~~~~~~~~~~~~~~~~~~~~~~~~~~~~~~~~~
THANK YOU to all our awesome volunteers!  Sustainable Ballard is sustainable because of YOU!