Sustainable Ballard is powered by 100% clean volunteer energy!  No matter your skill set, we've got ways for you to get involved in our ongoing activities and special events. Your passion for contributing to the community is what matters most!   Fill out our volunteer application to get started:
Powered by

EMF
Free Form Builder
Hot Volunteer Opportunities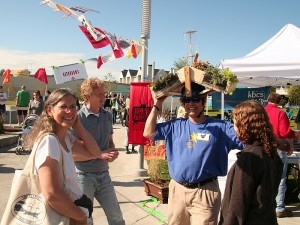 SB is seeking a Volunteer Coordinator!  Got some volunteer coordination skills and experience and some time to give?  Manage our most precious resource! 🙂  Our awesome volunteers (that's all of us!) can use a Coordinator to welcome, orient, connect, keep track of, keep in touch with and appreciate them.   Someone highly organized, outgoing, tech friendly with good communications skills would be great for this central role in the organization.  Interested or want more info? Please note this in your volunteer application above.
Join our Projects and Events Team!  We're seeking a few folks who enjoy working with others, putting your skills to good use creating and supporting cool events and projects for the community. 
Help Start the Ballard Tool Library!  We're gearing up to open a Tool Library in Ballard.  Five other neighborhoods have been successfully running tool libraries for many years. We'll need help with Work Parties, Circulation (front desk), Web and Social Media, Repair and Maintenance. Pledge your support now by contacting Anna.
Join the Farmers Market Gleaning Team!  Help reduce waste and feed the needy at the same time by collecting donated leftover produce from the Ballard Farmers Market and delivering to the Ballard Food Bank three blocks away.  Once a month rotation.  Right now we are also looking for someone with a truck, van or station wagon to lend or drive, and someone to train as the new coordinator.
~~~~~~~~~~~~~~~~~~~~~~~~~~~~~~~~~~~~~~~~~~~~~~~~~~~~~~~~~~~~~~~~~~
THANK YOU to all our awesome volunteers!  Sustainable Ballard is sustainable because of YOU!