Sustainable Ballard Knitters providing warmth!
Please note: the December gathering of the Knitters is canceled.  See you in the new year!
Sustainable Ballard Knitters for the Homeless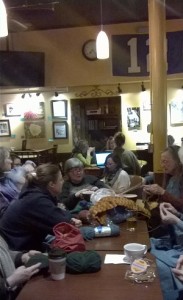 are busy knitting warmth for people experiencing homelessness. Hats, scarves and gloves knitted by caring hands go to clients of The Bridge Care Center at St. Luke's, the Ballard Urban Rest Stop, and residents of Cheryl Chow Court and Nyer Urness House.
The Knitters continue to gather every third Tuesday of the month, 7:00pm – 9:00pm at On the Park Apartments (2233 NW 58th St), 2nd floor community room.  For entrance information, please contact Jody.  Please join us on January 16th.  Knitters of every skill level are welcome!