Sustainable Ballard teams collect donated items for two gleaning projects:
MARKET GLEANING
(BALLARD FARMER'S MARKET PRODUCE FOR THE FOOD BANK)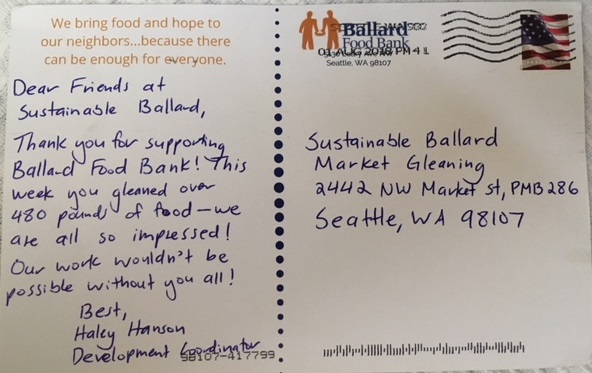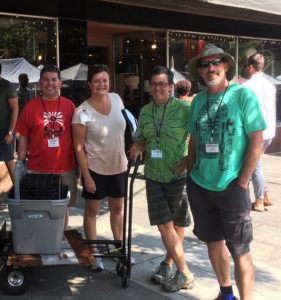 In 2018, the Market Gleaning Team collected over 5,300 pounds of food donated by farmers at the Sunday Ballard Farmers Market, and transported the food to the Ballard Food Bank.
Ballard Farmers Market – Sundays
If you are interested in helping with the gleaning project on Sundays, 2:45pm – 5:00pm, contact Katie.
Project Contact:  Katie Shinn
2015 = 13,918 pounds
2014 = 17,749.5 pounds
2013 = 6,111 pounds
Thanks to the generosity of the farmers and the time and energy of the Gleaning Team, all this food was diverted from the compost pile and into the shopping baskets of the Food Bank. Many thanks to our team of volunteers and high school student helpers!
Food donors in 2018 include:
A.C.M.A. Mission Orchards
Alvarez Organic Farms
Booth Canyon Orchard
Collins Family Orchards
Collinswood
Foothills Farm
Growing Washington
Hayton Farms Berries
Kallstrom Sweet Corn
Kirsop Farm
Lyall Farms
Magana Farms
Martin Family Orchard
Nash's Organic Produce
One Leaf Farm
Red Barn Farm
River Run Farm
Sea Wolf Bakery
Shong Chao's Farm
Sidhu Farms
Sno Valley Mushrooms
Spring Rain Farm & Orchard
Stokesberry Sustainable Farm
Tall Grass Bakery
Urban Sanctuary Farm
BAKED GOODS GLEANING
(TALL GRASS / CAFE BESALU FOR ST. LUKE'S EDIBLE HOPE PROGRAM)
Since December 2015, we've been collecting unsold bread and baked goods from Tall Grass Bakery each Saturday and Sunday evening, and delivering it to St. Luke's Episcopal Church for their weekday breakfast program serving neighbors in need. This simple and satisfying project is a win-win, spanning just a few Ballard blocks while making a tangible difference in people's lives.  In Spring 2018, we also joined up with Café Besalu, to bring even more goodness to St. Luke's meal program.
Thanks to the generosity of
Tall Grass Bakery
and
Café Besalu
, and the efforts of our volunteers, literally a TON of delicious baked goods finds its way to our hungry neighbors instead of landing in the composting dumpster.  Hats off to St. Luke's dedicated volunteer kitchen team for all their efforts feeding our neighbors – we are grateful to be partnering with you.  St. Luke's 'Edible Hope' meals ministry feeds over 2,000 meals a month.
Volunteers welcome!
• Want to join the Baked Goods Team? Are you available some Saturdays or Sundays between 
6:30-7:30pm
? Or some Monday / Tuesday / Thursday afternoons? Contact
Julia
 for more info.
This is a joint project of Sustainable Ballard and St. Luke's Episcopal Church.