Main Stage Schedule
Click on a session for more details.
Participate in a hands-on learning experience at the Outdoor Classroom. Click on a session for more details.
Join the conversation about sustainable action taking place in our neighborhood, city and state! Click on a session for more details.
Skate Clinics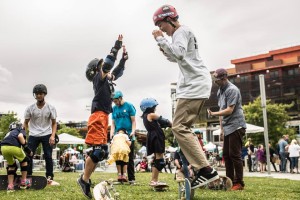 Come learn to skateboard at the Sustainable Ballard Festival! Skate Like a Girl will be running Skate Clinics for FREE during the festival, as well as providing boards and protective gear. All ages and all abilities encouraged! Be sure to register early — each clinic is limited to ten participants. Note: Lesson spots will be given away if participant does not show five minutes after the clinic start time. Late entries may be allowed or not, up to the discretion of clinic leads. Demos are in free skate / jam format with no formal programming.
| | |
| --- | --- |
| 11:00 AM | Clinic Sign Ups Open |
| 12:00 PM | Skate Clinic #1 |
| 1:00 PM | Skate Clinic #2 |
| 2:00 PM | Skate Clinic #3 |
| 3:00 PM | Skate Demonstration |
Main Stage Details
11:00 AM
Festival Kick Off
Join Mayor Ed Murray to kick off the festival in style. Learn about what is happening all around Ballard today and how to join the Summer Parkways Parade at 11:30 AM.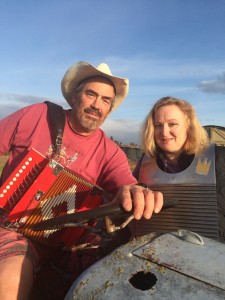 11:15 AM
The Red Claw Wranglers
The Red Claw Wranglers play Zesty Zydeco, Cajun, and Swamp Pop favorites with Mark Myking on accordion, Tina Tanaka on vocals and rub board, Randy Neal on guitar and Will Tanaka on Bass.
12:00 PM
Fremont Drum School/
Ballard Classroom
Magical hand drum rhythms of Africa and Her Diaspora with Bill Matthews and students from Fremont Drum/Ballard Classroom.

1:00 PM
Drunken Maidens

The Drunken Maidens, an all-female acoustic band, specialize in tight vocalharmonies which are inspired by performers such as Sweet Honey in the Rock, Mediaeval Baebes, Great Big Sea & the Wailin' Jennys. In addition to their voices, the band incorporates guitar, fiddle, mandolin, whistles, mountain dulcimer and percussion. Threads from traditional ballads, shanties, old-time and bluegrass, fiddle tunes and early music are woven together to produce a colorful and varied blend of British and American music, old and new.
2:00 PM
The Harper Conspiracy
The Harper Conspiracy plays music with passion. Their brand of originals and reinvented cover songs span musical genres, making for a performance filled with pleasant surprises.  Soulful vocals, playful guitars, saxophone, take the audience on a unique ride.
3:00 PM
School of Rock 
The Sustainable Ballard Festival welcomes School of Rock Seattle youth and teen band performances from 3pm to 3:45pm. The performances are a promo for the GreenwoodBlastsOff Community Summer Concert, a free, all-ages, outdoor education and outreach event featuring live music and art: Sunday, August 28, noon to 6pm @ Fred Meyer Greenwood, sponsored by Let Them Rock.
3:45 PM
Raffle Drawing
We'll pick the winner of the Raleigh Venture IE electric bike ($2400 value), a Life Edge Walnut Side Table from Slab Art Studios ($550 value) and eight other prizes including an 8lb wedge of Beechers Flagship Cheese, a one-hour massage, local beer and liquor and gift certificates for yoga, health screening and local dining! See the full list of prizes HERE.
Outdoor Classroom Details
11:45 AM
Sustainable Health
David Lamson, D.C., Divine Spine Chiropractic Studio
Learn at-home exercises to strengthen your back and counteract the effects of sitting. This is an interactive workshop demonstrating the foundation of a sustainable wellness routine. Dr. Lamson shares cutting edge science information on hacking into your ideal health – and prizes for the first 10 attendees!

12:45 PM
Why Choose an Electric Bike
Stefan Schlesinger, Seattle Electric Bike
Check out what's new in the electric bike world, including the health benefits, and our best answer to the question, Why choose an electric bike over a conventional bike?

1:15 PM
Perfectly Good Stuff
Benjamin Zuercher, Stuffmapper
Are you aware that many reusable items often end up in a landfill? Come see what can be found in your neighborhood! Learn about common unattended items that end up on the curb. Also find out about the attended stuff people exchange in-person. Lastly, learn about the free items that will be available to be Dibs'd today at Sustainable Ballard Fest!

1:45 PM
Mastering Milking a Goat
Lacia Lynne Bailey, Ravenna Ridge Metro Milkers
Well, not really "master" it in this short demo but you'll learn the basics of technique, equipment, sanitation and process, plus the all important after-milking ritual. Led by Lacia Lynne Bailey, breeder of Seattle's only finished dairy goat champions since 2008 on her urban farm, Ravenna Ridge Metro Milkers.
Learning Station Details

11:00 AM
Chinook Book Giveaway
Courtesy of Swanson's Nursery
Thanks to a generous donation from Swansons Nursery, the first 120 people to visit this station will receive a free 2016 Chinook Book (print edition)! Please no queue before 10 am.

12:00 PM
Gardening for Habitat
Kaitlin Parker, Islandwood Education Coordinator, NW Seattle Community Habitat Team
Every habitat garden is a step toward replenishing resources for wildlife locally and along migratory corridors. Kaitlin Parker will introduce Groundswell NW's partnership with the National Wildlife Federation's Certified Wildlife Habitat program and facilitate a lively discussion about the unwanted guests and invasive plants currently visiting your garden, and the possibilities of striking a happy medium.

12:30 PM
The Birth of KBFG Radio
Pamela Burton, KBFG Radio
KBFG is north Seattle's soon-to-be low powered radio station that will bring a new sound by and about the people who live in Ballard, Fremont, Greenwood and Phinney Ridge. A group of community volunteers have applied for and received an FCC construction permit to install an antennae on the Norse Home and broadcast at 107.3FM. Let's talk about new programming and how you can get involved in this exciting adventure! All ages are welcome.

1:00 PM
Public Land: Is it for You?
Mary Fleck, Seattle Green Spaces Coalition
Find out about benefits of public land in your neighborhood. Seattle Green Spaces Coalition will show you where "surplus" city land is located in your neighborhood.

1:30 PM
Biking with Kids and Cargo
Morgan Scherer, Family Bike Seattle
Bring your questions about transportation biking with kids and cargo! I will be talking about electric assist, safety, benefits, and how to get started, and always have a funny story to share. Then head over to the Familybike booth to try out any or all of the passenger-ready cargo bikes!

2:00 PM
The Real Value of Solar
Jeremy Smithson, Puget Sound Solar
Solar roadmaps have traditionally been all about adding more solar and producing more kilowatt-hours (kWh), but lately the conversation has shifted to one about the value of distributed solar. This necessarily takes the form of a table of positive and negative attributes, so the arguments are over what is included in that table, and at what values.

2:30 PM
Initiative 732
Quillan Robinson, Carbon Washington
I-732 marks the first time any state in the country has had an opportunity to enact a price on carbon pollution. We will discuss why putting a price on carbon pollution is a vital solution to global climate change, why Washington can lead the nation and what the overview of I-732 is. We will discuss the central pillars of the policy, our political strategy, what people can do to help and of course take as much time for Q&A as necessary.

3:00 PM
Biking for Transportation
TBD, Rad Power Bikes
Electric Bikes can help solve transportation issues, play a key role in urban planning and stimulate the local economy. Seattle is a rapidly growing city and Electric Bikes are a sustainable solution to the increase in density.