Our Mission & Vision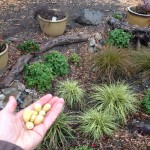 Sustainable Ballard, a blueprint for Everytown, USA, educates, inspires, and engages neighbors to take action to live more sustainably both individually and collectively. Our vision is an inclusive, joyful, sustainable community co-creating a world for this and future generations where eco-systems are healthy and peace is inevitable.
About Us

Sustainable Ballard is now 12 years old. Formed in 2003, we were the first neighborhood sustainability group in Seattle and a founding organization of SCALLOPS (Sustainable Communities All Over Puget Sound). We've gained local, national and international recognition for our grassroots approach to community action addressing climate change.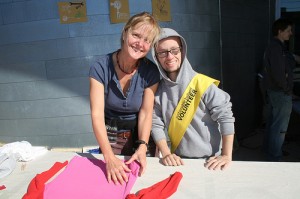 The goal of Sustainable Ballard is to help prepare ourselves and our community to sustain and thrive in a post-peak-oil future, by supporting and inspiring each other to build a healthy and joyful life that is environmentally, socially and personally sustainable. To achieve this resiliency, we believe some key ingredients are: Getting connected with our neighbors to strengthen the social fabric of the community; learning new skills; getting educated on sustainability related matters; building a local food supply and a local economy, and sharing resources.

We invite all of our Ballard neighbors and friends to become more connected with others and the community by participating in Sustainable Ballard activities, including learning opportunities, community service, resource sharing, social events, and more. When we engage, we become part of creating the thriving community and lifestyle we want and need.
Our Team
Bev Beppler  Free Letters Home (email Bev)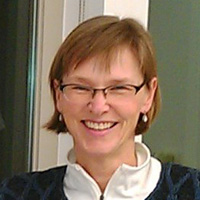 Bev was a volunteer at the Seattle animal shelter for ten years when she decided it was time to connect and help serve the homeless population of Ballard instead. Her desire to serve and the opportunity to connect with Sustainable Ballard aligned to create the Free Letters Home program, running since 2013. You can't solve all of someone's problems with a letter and a stamp, but if you can offer dignity and respect, that connection brings intangible benefits that are tremendously meaningful. Bev has lived in Ballard going on 20 years, and is grateful for the opportunity to love and validate all people in her community.
Christopher Yang  Community Kitchen (email Chris)
Courtney Rosenstein  VP Pro-Tem (email Courtney)



Courtney joined Sustainable Ballard in 2009 when she learned about this group of people helping each other create a healthier neighborhood. She started volunteering at Sustainable Ballard Festivals and found inspirational examples of urban farmers, rainwater harvesters and people embracing a sharing economy. Courtney's profession and passion is writing about sustainability and its value to the community. She is marketing, communications and public relations associate for Mithun – a deep green urban design, architecture, landscape architecture and interior design firm. She is delighted to represent Sustainable Ballard as a board member and on the Ballard Partnership for Smart Growth's Urban Design and Transportation working group. A Ballard resident for 20+ years, Courtney lives with her husband and son.
Dan McKeon Ballard Tool Library (email Dan)
Eric Smith  Board of Directors (email Eric)


Eric believes in the value of people coming together in community to solve local challenges while enjoying each others company, companionship, and support. He says, "We're all in this together, let's have a good time… and fix things while we're at it!"  He brings us the unique perspective of a social-purpose entrepreneurial small business background which he developed over several decades after founding and managing a successful local financial services practice. Eric supported and participated in many of our annual festivals. He developed the Sunset Hill Microfarm, a private community garden and hosted for our Garden Tour there one year. Eric has presented on the economy and sustainable, responsible, impactful investing topics at our festivals and member meetings. He believes in the power of focused organizations of people, both for-profit and non-profit varieties, to help solve some of the biggest challenges facing people and planet.  Professionally, Eric is also Founder and Director of Strategy & Advisory Services at Goodfunds Wealth Management, a Branch Office of Seattle-based employee-owned KMS Financial Services, Inc.
Eric Thomas  Board of Directors, B-Green Talks, RainWise (email Eric)


Bucking the conventional wisdom that says green building is expensive, Eric built Seattle's first zero-energy house right here in Ballard at a cost 40% below the city's average. He went on to found Sustainable Ballard's B-Green Building Talks—short presentations by green innovators staged in sustainably built houses. He is on Sustainable Ballard's RainWise team and oversees publicity for SB's projects and events. Eric is a frequent contributor to discussions about sustainability in local and national publications, on radio and TV, and in blogs and social media. In addition to his work for Sustainable Ballard, he serves as a communications strategist, consumer advocate, and advisor to organizations such as the Northwest Eco Building Guild, Built Green, and the Seattle City Light Review Panel. He is a senior copywriter for a New York City–based agency specializing in data-driven marketing, loyalty, and engagement, and he is a freelance marketer in the community nonprofit and green building spheres.
Jennifer Mundee  Food & Garden (email Jennifer)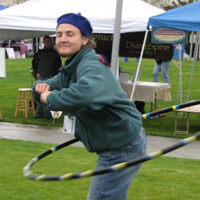 Jennifer has been an active leader with Sustainable Ballard for the good part of a decade, leading most of our food and garden projects, past and present, including: Eat Local Now!, Community Kitchen, Ballard Health Walk, Market Gleaning, Edible Garden Tour and more!  Jennifer is a licensed landscape architect and lives on her own little urban farm, including chickens, fruit trees and veggies, in East Ballard.
Jenny Heins  President, RainWise, SCALLOPS, Festival (email Jenny)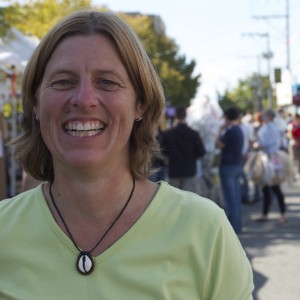 Jenny has been practicing conservation since she was a child, thanks to Ranger Rick and the Keep America Beautiful campaign of the early 70s.  She only became an activist when she discovered Sustainable Ballard in 2004 and now is very "active."  Within Sustainable Ballard, she heads up a number of our activities, including the Annual Festival, our monthly Social, our RainWise work and the administrative work of our Board. She's also a key collaborator with SCALLOPS (Sustainable Communities All Over Puget Sound) and is participating in the Ballard Chamber-driven Ballard Partnership for Smart Growth. Outside of SB, she is on the board of Undriving™ and is helping to produce the NW Green Home Tour.   Jenny produced the Seattle Green Festival as Regional Director for 4 years, and had her own business:  Small Wonder Farm – a small local nursery growing gourmet vegetable and herb starts and educating neighbors how to grow their own food.  Jenny has been a Ballard resident since 1991.
Jodi Newton  Social Media (email Jodi)


Jodi initially learned about Sustainable Ballard through our annual festival on 10/10/10 and was captured by the idea of grass-roots, neighbor-led action for the environment.  She applied her technology experience to managing Sustainable Ballard's social media and to building a new website.  A Ballard resident since 2004, Jodi also maintains our social media and supports Sustainable Ballard's RainWise team, getting the word out about the benefits of and city rebate programs for rain gardens and cisterns.
Jody Grage  Knitters for the Homeless (email Jody)



Jody was part of both the original Sustainable Seattle and Sustainable Ballard organizers.  She is a retired special education teacher who owns and lives in the oldest house in Ballard which is surrounded by vegetable garden.  Jody has been a part of the Green Party at the national, state, and local levels since the 1980s.  Other interests include knitting and other needlework, Norwegian folk costumes, voluntary simplicity, peacekeeping, vegetable gardening, winter, and community.
Julia Field  RainWise, Strategic Advisor (email Julia)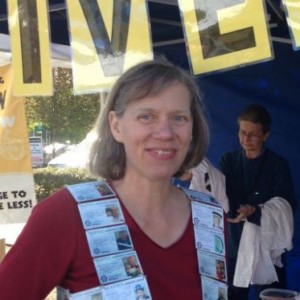 Julia found Sustainable Ballard in 2006, and got right in up to her elbows! Through participation in SB festivals, projects, and other learning adventures, she's remodeled her life, home, and garden to be more and more green. Julia is part of SB's RainWise team, helping more Ballard neighbors manage stormwater at home. She is the founder and past-president of Undriving, the innovative car-use-reduction program that was born in the creative cauldron of Sustainable Ballard in 2007. She's a designer, artist, and instigator, and SB is one of her mediums. (We hope you saw her RainWise yard and artful gardens as part of SB's 2013 Edible Garden Tour!)
Julia Park  Board of Directors, Ballard Partnership for Smart Growth (email Julia)
Ken Cousins  Board of Directors (email Ken)


Ken Cousins' work focuses broadly on sustainability issues, including the global dynamics of green markets and social labeling, ecological economics, and mapping activist networks. He has been active in the sustainability movement for over two decades, working with the Forest Stewardship Council, Green Festival, Sustainable Seattle, Sustainable Cascadia, Eat Local Now!, Seattle Transition Network groups, and SCALLOPS affiliates – including Sustainable Ballard. He believes that sustainability – broadly realized – is necessary for a healthy, just, and vibrant civil society. He has a Ph.D. in the Politics of Natural Resources and the Environment, and an M.A. in Political Economy (with research in Ecological Economics) from the University of Maryland, as well as a B.A. in Ecological Agriculture from The Evergreen State College. Ken lives with his wife Leyla and their dog Molly in a LEED-certified home in Ballard.
Lori Conzatti  Ballard Sprouts (email Lori)

Margaret Wetter  Administration, Reusable Cups Campaign (email Margaret)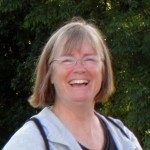 Sustainable Ballard came to Margaret's attention while working on a project with the EarthCare team at her church.  A 20-year resident of Whittier Heights (and lifelong Seattle-area resident), Margaret had been looking for ways to combine her interests in sustainability, social justice and community, and Sustainable Ballard brings much of these together!  Now retired after 30 years with the City of Seattle at Seattle Center, Margaret spends her time as the contracted administrative assistant for Sustainable Ballard, volunteering on the social justice initiatives at Our Redeemer's Lutheran Church, gardening, quilting and raising her 18-year-old daughter.  She is also working on starting a new project:  "Sustainable Sundays", a film series on "all things sustainable" that we hope to launch some time in 2015.
Mary Olson  Treasurer (email Mary)

Orna Locker  Vice President, Sustainable Ballard Cooks, Ballard Community Taskforce on Homelessness and Hunger (email Orna)



Orna discovered Sustainable Ballard in 2009 and was excited to join the Admin Team to help the organization grow. In addition to her role as VP since 2010 and ongoing membership of the Admin Team, she has been a regular contributor and co-editor of our newsletter as well as acting Volunteer Coordinator, and expresses her passion for community building and social justice by contributing to SB's Socials and monthly gatherings, enthusiastically participating in SB's New Economy Circle, and representing SB at the Ballard Community Taskforce on Homelessness and Hunger. She has a MA in Environment and Community from Antioch's Center for Creative Change, but traces the origins of her interest in sustainability, economy, policy, education and social justice back to her work with the Northwest Earth Institute and the Good News, the bulletin of positive environmental news she published many years ago.
Paula Jenson  Interim Treasurer, Little Free Libraries, Edible Garden Tour (email Paula)



Ten years ago, Paula clearly remembers being jazzed by the first mention of Sustainable Ballard's formation, by which time she and her husband had been in Ballard for 15+ years, watching two kids grow up and moving into the community. She's always been a gardener, and has been involved locally with SB's urban crop circle, gardening guild, community cooking and gardening projects and the Edible Garden Tour. Paula is actively involved with the Literacy Council of Seattle and proudly shares a great variety of books in her Little Free Library.
Tom Sheehan  Secretary, Ballard District Council (email Tom)


Tom Sheehan was born and raised in Seattle. He teaches at Cornish College of the Arts, and is interested in just about everything— Tom was keeper of our Sustainable Book and DVD Lending Library before most were dispersed into the Little Free Libary system, was an active participant in the New Economy reading group, and now serves as our representative on the Ballard District Council and as Board Secretary.
The board is actively recruiting for new board candidates, especially those who can contribute in any of the following ways:
Contribute to the board's diversity
Have experience with non-profit financial planning and budget forecasting
Have experience with leadership development and support
Willing to commit 3-5 hours per month attending board meetings and events
Willing to lead, organize and/or present at one or more events per year
If you are interested in this volunteer opportunity, please contact our President Jenny Heins, via email or call (206) 384-0053.